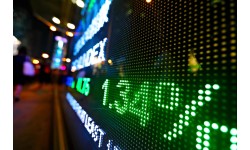 Wise plc (LON:WISE – Get Rating)'s stock price traded up 1% during trading on Tuesday . The stock traded as high as GBX 579 ($7.00) and last traded at GBX 571.20 ($6.90). 1,016,592 shares traded hands during mid-day trading, a decline of 36% from the average session volume of 1,587,137 shares. The stock had previously closed at GBX 565.40 ($6.83).
Analysts Set New Price Targets
WISE has been the subject of a number of analyst reports. Credit Suisse Group lowered their target price on shares of Wise from GBX 640 ($7.73) to GBX 410 ($4.95) and set a "neutral" rating for the company in a research note on Thursday, July 14th. Citigroup reiterated a "sell" rating on shares of Wise in a research note on Monday, July 18th. Finally, Barclays boosted their target price on shares of Wise from GBX 510 ($6.16) to GBX 550 ($6.65) and gave the stock an "equal weight" rating in a research note on Monday, August 8th.
Wise Stock Up 1.0 %
The company has a debt-to-equity ratio of 23.39, a current ratio of 1.05 and a quick ratio of 0.06. The company has a market cap of £8.13 billion and a price-to-earnings ratio of 19,040.00. The firm's 50 day simple moving average is GBX 479.06 and its 200-day simple moving average is GBX 429.97.
Insider Buying and Selling at Wise
Want More Great Investing Ideas?
In other Wise news, insider Matthew Briers sold 32,242 shares of the company's stock in a transaction on Monday, August 1st. The shares were sold at an average price of GBX 461 ($5.57), for a total value of £148,635.62 ($179,598.38).
About Wise
Wise plc provides cross-border money transfer services for personal and business customers in the United Kingdom, rest of Europe, the Asia-Pacific, North America, and internationally. The company's transfer infrastructure includes Wise Account for international people who need to move and manage money across borders; Wise Business for international businesses need; and Wise Platform that allows businesses and banks to offer their own customers international payments.
Featured Articles
Receive News & Ratings for Wise Daily - Enter your email address below to receive a concise daily summary of the latest news and analysts' ratings for Wise and related companies with MarketBeat.com's FREE daily email newsletter.