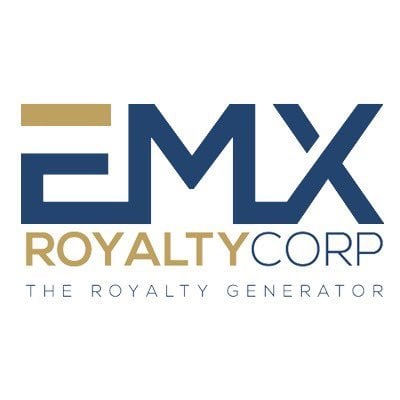 EMX Royalty Co. (CVE:EMX – Get Rating) – Stock analysts at HC Wainwright lowered their FY2022 EPS estimates for shares of EMX Royalty in a report issued on Wednesday, November 16th. HC Wainwright analyst H. Ihle now forecasts that the company will post earnings per share of $0.10 for the year, down from their prior estimate of $0.32. The consensus estimate for EMX Royalty's current full-year earnings is $0.17 per share.
EMX Royalty Stock Performance
CVE EMX opened at C$2.43 on Friday. The firm has a 50-day moving average of C$2.45 and a 200-day moving average of C$2.47. The company has a debt-to-equity ratio of 29.91, a quick ratio of 4.75 and a current ratio of 5.23. The stock has a market cap of C$268.75 million and a PE ratio of -127.89. EMX Royalty has a 52-week low of C$2.18 and a 52-week high of C$3.73.
Insider Transactions at EMX Royalty
Want More Great Investing Ideas?
In other news, Director Michael D. Winn sold 27,362 shares of the firm's stock in a transaction dated Wednesday, August 24th. The shares were sold at an average price of C$2.49, for a total transaction of C$68,147.80. Following the completion of the sale, the director now owns 692,988 shares in the company, valued at approximately C$1,725,955.91.
EMX Royalty Company Profile
EMX Royalty Corporation, together with its subsidiaries, engages in the exploring for, and generating royalties from, metals and minerals properties. It explores for gold, silver, platinum, palladium, copper, lead, zinc, nickel, cobalt, volcanogenic massive sulfide, molybdenum, and iron deposits. The company's royalty and exploration portfolio primarily consist of properties in North America, Turkey, Europe, Australia, New Zealand, South America, as well as Sweden, and Norway.
Featured Articles
Receive News & Ratings for EMX Royalty Daily - Enter your email address below to receive a concise daily summary of the latest news and analysts' ratings for EMX Royalty and related companies with MarketBeat.com's FREE daily email newsletter.