Open Text Co. (TSE:OTEX – Get Rating) (NASDAQ:OTEX) Senior Officer Brian Paul Sweeney sold 3,923 shares of the firm's stock in a transaction that occurred on Monday, November 14th. The shares were sold at an average price of C$39.14, for a total value of C$153,564.63. Following the completion of the transaction, the insider now directly owns 9,304 shares in the company, valued at C$364,202.22.
Open Text Stock Up 0.6 %
Shares of OTEX stock opened at C$38.79 on Monday. The stock's 50 day simple moving average is C$37.87 and its 200 day simple moving average is C$44.94. The company has a debt-to-equity ratio of 116.23, a quick ratio of 1.34 and a current ratio of 1.42. Open Text Co. has a twelve month low of C$34.72 and a twelve month high of C$66.51. The company has a market capitalization of C$10.48 billion and a price-to-earnings ratio of 53.14.
About Open Text
Want More Great Investing Ideas?
Open Text Corporation engages in the designs, develops, markets, and sells information management software and solutions. It offers content services; business network that manages data within the organization and outside the firewall; security and protection solutions for defending against cyber threats, and preparing for business continuity and response in the event of a breach; digital investigation and forensic security solutions; OpenText security solutions to address information cyber resilience needs; Carbonite and Webroot products; and OpenText Information Management software platform.
Featured Stories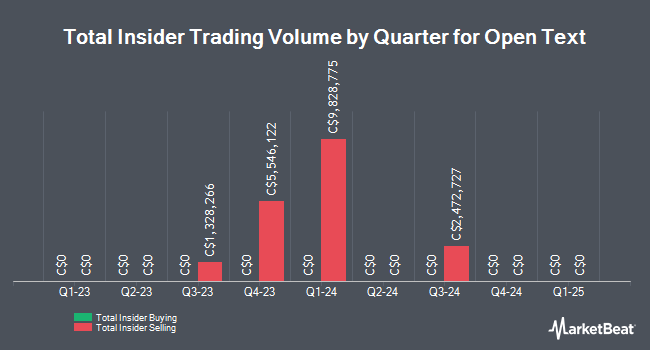 Receive News & Ratings for Open Text Daily - Enter your email address below to receive a concise daily summary of the latest news and analysts' ratings for Open Text and related companies with MarketBeat.com's FREE daily email newsletter.