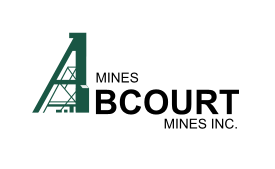 Abcourt Mines Inc. (CVE:ABI – Get Rating) Director Francois Joseph Pierre Marie Mestrallet bought 200,000 shares of the stock in a transaction dated Tuesday, January 10th. The shares were acquired at an average price of C$0.07 per share, for a total transaction of C$14,000.00. Following the completion of the transaction, the director now owns 10,800,000 shares of the company's stock, valued at approximately C$756,000.
Abcourt Mines Stock Performance
Shares of ABI opened at C$0.08 on Monday. The company has a current ratio of 0.54, a quick ratio of 0.44 and a debt-to-equity ratio of 28.75. The firm has a market cap of C$26.16 million and a PE ratio of -37.50. The company's 50 day simple moving average is C$0.06 and its 200-day simple moving average is C$0.05. Abcourt Mines Inc. has a 12-month low of C$0.04 and a 12-month high of C$0.10.
About Abcourt Mines
Want More Great Investing Ideas?
Abcourt Mines Inc engages in the acquisition, exploration, evaluation, and exploitation of gold mining properties in Canada. It also explores for silver and zinc deposits. Abcourt Mines Inc was incorporated in 1971 and is headquartered in Rouyn-Noranda, Canada.
Featured Articles
Receive News & Ratings for Abcourt Mines Daily - Enter your email address below to receive a concise daily summary of the latest news and analysts' ratings for Abcourt Mines and related companies with MarketBeat.com's FREE daily email newsletter.