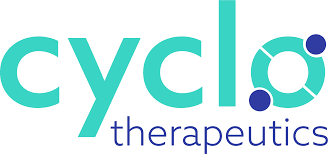 Cyclo Therapeutics, Inc. (NASDAQ:CYTH – Get Rating) shares dropped 4.3% during mid-day trading on Friday . The stock traded as low as $1.85 and last traded at $1.98. Approximately 62,019 shares were traded during trading, a decline of 44% from the average daily volume of 109,963 shares. The stock had previously closed at $2.07.
Cyclo Therapeutics Price Performance
The stock has a market cap of $16.79 million, a price-to-earnings ratio of -1.25 and a beta of -0.51. The company's fifty day moving average price is $1.62 and its 200-day moving average price is $1.87.
Cyclo Therapeutics (NASDAQ:CYTH – Get Rating) last posted its quarterly earnings data on Friday, November 11th. The company reported ($0.50) earnings per share (EPS) for the quarter. Cyclo Therapeutics had a negative net margin of 747.63% and a negative return on equity of 120.38%. The company had revenue of $0.45 million for the quarter.
Hedge Funds Weigh In On Cyclo Therapeutics
Want More Great Investing Ideas?
A hedge fund recently raised its stake in Cyclo Therapeutics stock. Renaissance Technologies LLC grew its stake in shares of Cyclo Therapeutics, Inc. (
NASDAQ:CYTH
–
Get Rating
) by 14.3% during the 1st quarter, according to the company in its most recent Form 13F filing with the Securities & Exchange Commission. The institutional investor owned 75,787 shares of the company's stock after acquiring an additional 9,487 shares during the quarter. Renaissance Technologies LLC owned about 1.17% of Cyclo Therapeutics worth $240,000 as of its most recent SEC filing. Institutional investors and hedge funds own 4.69% of the company's stock.
About Cyclo Therapeutics
Cyclo Therapeutics, Inc engages in the development of cyclodextrin-based biopharmaceuticals for the treatment of disease. Its product pipeline include Trappsol Cyclo, which treats Neimann-Pick Type C disease and Alzheimer's disease. The company was founded by Charles E. Rick Strattan on August 9, 1990 and is headquartered in Gainesville, FL.
Featured Articles
Receive News & Ratings for Cyclo Therapeutics Daily - Enter your email address below to receive a concise daily summary of the latest news and analysts' ratings for Cyclo Therapeutics and related companies with MarketBeat.com's FREE daily email newsletter.