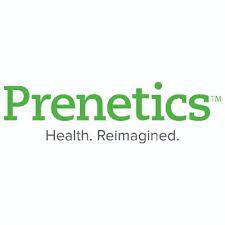 Prenetics Global Limited (NASDAQ:PRE – Get Rating) – Research analysts at Cantor Fitzgerald issued their FY2022 earnings per share estimates for Prenetics Global in a research note issued on Wednesday, January 18th. Cantor Fitzgerald analyst R. Osborn anticipates that the company will post earnings per share of ($1.81) for the year. Cantor Fitzgerald has a "Overweight" rating and a $7.00 price objective on the stock. The consensus estimate for Prenetics Global's current full-year earnings is ($2.40) per share. Cantor Fitzgerald also issued estimates for Prenetics Global's FY2023 earnings at ($0.32) EPS.
Prenetics Global Stock Performance
NASDAQ PRE opened at $1.55 on Monday. The stock's 50 day simple moving average is $1.98 and its 200-day simple moving average is $3.12. Prenetics Global has a 1-year low of $1.24 and a 1-year high of $8.75.
Want More Great Investing Ideas?
Prenetics Global (
NASDAQ:PRE
–
Get Rating
) last released its earnings results on Thursday, November 10th. The company reported $0.30 earnings per share for the quarter. The firm had revenue of $79.68 million during the quarter.
Hedge Funds Weigh In On Prenetics Global
A number of institutional investors have recently added to or reduced their stakes in the stock. NINE MASTS CAPITAL Ltd purchased a new position in Prenetics Global during the second quarter worth approximately $202,000. Millennium Management LLC purchased a new stake in Prenetics Global in the second quarter valued at $1,418,000. Finally, Dantai Capital Ltd purchased a new stake in Prenetics Global in the fourth quarter valued at $896,000. Hedge funds and other institutional investors own 13.01% of the company's stock.
About Prenetics Global
Prenetics Global Limited, an investment holding company, operates as a diagnostics and genetic testing company. Its products include CircleDNA, a consumer genetic testing product; and Circle HealthPod, a rapid detection health monitoring system that allows users to take COVID-19 tests at point-of-care or at home utilizing the nucleic acid amplification test.
See Also
Receive News & Ratings for Prenetics Global Daily - Enter your email address below to receive a concise daily summary of the latest news and analysts' ratings for Prenetics Global and related companies with MarketBeat.com's FREE daily email newsletter.