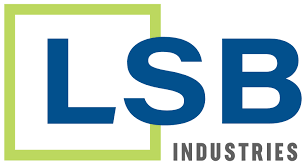 LSB Industries, Inc. (NYSE:LXU – Get Rating) – Research analysts at Jefferies Financial Group reduced their FY2022 earnings per share (EPS) estimates for LSB Industries in a report released on Monday, January 23rd. Jefferies Financial Group analyst L. Alexander now forecasts that the conglomerate will post earnings per share of $2.76 for the year, down from their prior estimate of $2.91. Jefferies Financial Group currently has a "Buy" rating and a $20.00 price target on the stock. The consensus estimate for LSB Industries' current full-year earnings is $2.94 per share. Jefferies Financial Group also issued estimates for LSB Industries' Q4 2022 earnings at $0.62 EPS, FY2023 earnings at $1.90 EPS and FY2024 earnings at $1.45 EPS.
Several other analysts have also recently weighed in on LXU. The Goldman Sachs Group assumed coverage on shares of LSB Industries in a report on Tuesday, October 25th. They issued a "neutral" rating and a $20.00 price target on the stock. StockNews.com downgraded LSB Industries from a "buy" rating to a "hold" rating in a research note on Friday, January 6th. UBS Group reduced their price target on LSB Industries from $21.00 to $19.00 and set a "buy" rating for the company in a report on Wednesday, January 11th. Finally, Royal Bank of Canada began coverage on LSB Industries in a research report on Thursday, November 17th. They issued an "outperform" rating and a $20.00 price objective on the stock. Two investment analysts have rated the stock with a hold rating and five have issued a buy rating to the company. Based on data from MarketBeat.com, the stock has a consensus rating of "Moderate Buy" and a consensus target price of $21.33.
LSB Industries Price Performance
Want More Great Investing Ideas?
Shares of
NYSE LXU
opened at $12.34 on Tuesday. The company has a market cap of $1.01 billion, a price-to-earnings ratio of 5.37 and a beta of 1.65. The firm's fifty day moving average is $13.63 and its 200 day moving average is $14.38. The company has a quick ratio of 3.67, a current ratio of 3.87 and a debt-to-equity ratio of 1.34. LSB Industries has a 52 week low of $9.06 and a 52 week high of $27.45.
LSB Industries (NYSE:LXU – Get Rating) last released its earnings results on Tuesday, November 1st. The conglomerate reported $0.03 EPS for the quarter, missing the consensus estimate of $0.07 by ($0.04). LSB Industries had a net margin of 24.07% and a return on equity of 44.12%. The business had revenue of $184.27 million for the quarter, compared to the consensus estimate of $182.65 million.
Hedge Funds Weigh In On LSB Industries
Hedge funds have recently modified their holdings of the stock. National Bank of Canada FI increased its stake in shares of LSB Industries by 260.7% in the fourth quarter. National Bank of Canada FI now owns 2,518 shares of the conglomerate's stock worth $33,000 after acquiring an additional 1,820 shares during the period. New York State Teachers Retirement System acquired a new position in LSB Industries in the third quarter valued at approximately $40,000. Allspring Global Investments Holdings LLC purchased a new stake in LSB Industries during the third quarter worth $52,000. Royal Bank of Canada acquired a new position in LSB Industries during the first quarter worth $93,000. Finally, Zurcher Kantonalbank Zurich Cantonalbank purchased a new position in LSB Industries in the 2nd quarter valued at about $64,000. Institutional investors and hedge funds own 81.20% of the company's stock.
Insider Buying and Selling at LSB Industries
In related news, major shareholder Lsb Funding Llc sold 15,977,500 shares of the business's stock in a transaction that occurred on Thursday, November 10th. The shares were sold at an average price of $12.99, for a total value of $207,547,725.00. Following the completion of the transaction, the insider now owns 1,672,500 shares of the company's stock, valued at $21,725,775. The sale was disclosed in a legal filing with the Securities & Exchange Commission, which is accessible through this link. 4.20% of the stock is currently owned by corporate insiders.
LSB Industries Company Profile
LSB Industries, Inc engages in manufacturing, marketing, and sale of chemical products for the agricultural, mining, and industrial markets. It also own and operate facilities in El Dorado, Arkansas (El Dorado Facility), Cherokee, Alabama (Cherokee Facility), and Pryor, Oklahoma (Pryor Facility), as well as facility for Covestro AG (Covestro) in Baytown, Texas (Baytown Facility).
See Also
Receive News & Ratings for LSB Industries Daily - Enter your email address below to receive a concise daily summary of the latest news and analysts' ratings for LSB Industries and related companies with MarketBeat.com's FREE daily email newsletter.