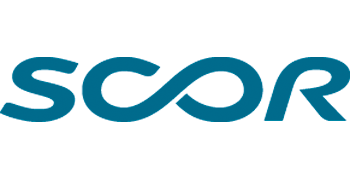 Barclays assumed coverage on shares of Scor (OTCMKTS:SCRYY – Get Rating) in a report published on Tuesday, The Fly reports. The firm issued an equal weight rating on the financial services provider's stock.
Several other research firms have also issued reports on SCRYY. Societe Generale cut their price target on Scor from €21.50 ($22.87) to €20.00 ($21.28) in a report on Tuesday, November 22nd. JPMorgan Chase & Co. upped their price objective on Scor from €16.00 ($17.02) to €16.50 ($17.55) in a research report on Friday, November 11th. Royal Bank of Canada increased their price target on Scor from €24.00 ($25.53) to €26.00 ($27.66) in a report on Monday, November 14th. Jefferies Financial Group downgraded Scor from a buy rating to a hold rating in a report on Friday, November 18th. Finally, AlphaValue downgraded Scor to a buy rating in a report on Wednesday, November 16th. One analyst has rated the stock with a sell rating, three have issued a hold rating and seven have assigned a buy rating to the stock. According to data from MarketBeat.com, the company currently has a consensus rating of Moderate Buy and an average price target of $25.80.
Scor Trading Down 4.6 %
Shares of OTCMKTS:SCRYY opened at $2.49 on Tuesday. The stock has a fifty day simple moving average of $2.46 and a two-hundred day simple moving average of $1.98. The stock has a market capitalization of $4.65 billion, a price-to-earnings ratio of -11.35 and a beta of 1.15. Scor has a 12-month low of $1.32 and a 12-month high of $3.33.
Scor Company Profile
Want More Great Investing Ideas?
(
Get Rating
)
SCOR SE provides life and non-life insurance and reinsurance services. It operates through the following segments: SCOR Global P&C, SCOR Global Life, and Corporate Functions. The SCOR Global P&C segment operates property and casualty treaties; specialty treaties, including credit and surety, decennial insurance, aviation, space, marine, engineering, as well as agriculture risks and alternative solutions; business solutions; and business ventures and partnerships.
Recommended Stories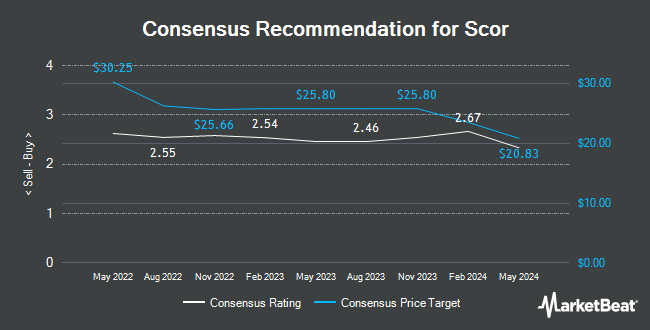 Receive News & Ratings for Scor Daily - Enter your email address below to receive a concise daily summary of the latest news and analysts' ratings for Scor and related companies with MarketBeat.com's FREE daily email newsletter.