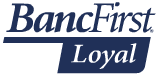 BlackRock Inc. trimmed its holdings in BancFirst Co. (NASDAQ:BANF – Get Rating) by 7.1% in the third quarter, HoldingsChannel.com reports. The institutional investor owned 2,886,478 shares of the bank's stock after selling 218,973 shares during the quarter. BlackRock Inc. owned about 0.09% of BancFirst worth $258,254,000 as of its most recent filing with the Securities and Exchange Commission (SEC).
Several other institutional investors and hedge funds also recently modified their holdings of BANF. Larson Financial Group LLC bought a new position in BancFirst in the 3rd quarter valued at about $36,000. Eagle Bay Advisors LLC acquired a new position in shares of BancFirst during the 2nd quarter valued at $39,000. Royal Bank of Canada raised its stake in shares of BancFirst by 19.4% in the 3rd quarter. Royal Bank of Canada now owns 745 shares of the bank's stock worth $66,000 after buying an additional 121 shares in the last quarter. Federated Hermes Inc. acquired a new stake in shares of BancFirst in the second quarter valued at $81,000. Finally, Point72 Hong Kong Ltd bought a new position in BancFirst during the third quarter valued at about $83,000. Institutional investors own 45.85% of the company's stock.
Wall Street Analyst Weigh In
Several equities research analysts have commented on the stock. StockNews.com raised shares of BancFirst from a "sell" rating to a "hold" rating in a report on Sunday, March 5th. Piper Sandler cut their target price on shares of BancFirst from $97.00 to $84.00 and set an "underweight" rating for the company in a research note on Monday, January 23rd.
Insider Activity at BancFirst
Want More Great Investing Ideas?
In other BancFirst news, EVP
Kevin Lawrence
sold 2,291 shares of the business's stock in a transaction on Monday, February 27th. The shares were sold at an average price of $92.00, for a total transaction of $210,772.00. Following the sale, the executive vice president now directly owns 10,000 shares of the company's stock, valued at approximately $920,000. The sale was disclosed in a document filed with the SEC, which is available through
the SEC website
. 35.70% of the stock is owned by insiders.
BancFirst Trading Up 2.2 %
NASDAQ:BANF opened at $87.05 on Monday. The stock has a fifty day simple moving average of $87.12 and a 200 day simple moving average of $93.00. The company has a quick ratio of 0.93, a current ratio of 0.93 and a debt-to-equity ratio of 0.07. The firm has a market capitalization of $2.86 billion, a price-to-earnings ratio of 15.09 and a beta of 1.07. BancFirst Co. has a 1-year low of $77.33 and a 1-year high of $118.07.
BancFirst Announces Dividend
The company also recently announced a quarterly dividend, which will be paid on Monday, April 17th. Stockholders of record on Friday, March 31st will be given a $0.40 dividend. This represents a $1.60 annualized dividend and a dividend yield of 1.84%. The ex-dividend date is Thursday, March 30th. BancFirst's dividend payout ratio (DPR) is currently 27.73%.
About BancFirst
BancFirst Corp. is a bank holding company, which provides retail and commercial banking services. Its services include commercial, real estate, agricultural and consumer lending, depository and funds transfer services, collections, safe deposit boxes, cash management services, retail brokerage services, and other services tailored for both individual and corporate customers.
Further Reading
Want to see what other hedge funds are holding BANF? Visit HoldingsChannel.com to get the latest 13F filings and insider trades for BancFirst Co. (NASDAQ:BANF – Get Rating).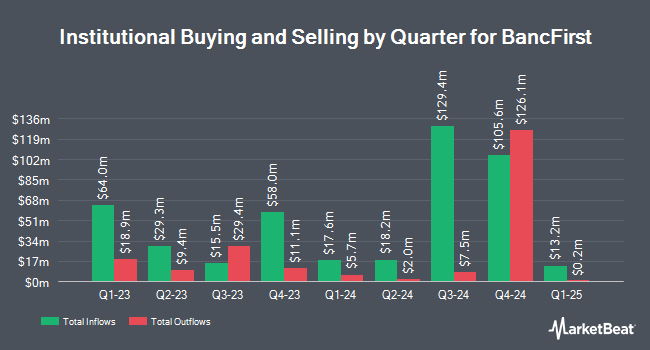 Receive News & Ratings for BancFirst Daily - Enter your email address below to receive a concise daily summary of the latest news and analysts' ratings for BancFirst and related companies with MarketBeat.com's FREE daily email newsletter.