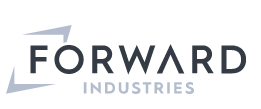 Forward Industries, Inc. (NASDAQ:FORD – Get Rating) was the recipient of a significant decrease in short interest during the month of February. As of February 28th, there was short interest totalling 118,600 shares, a decrease of 6.5% from the February 13th total of 126,800 shares. Based on an average daily trading volume, of 25,500 shares, the days-to-cover ratio is currently 4.7 days. Currently, 1.7% of the company's stock are short sold.
Institutional Trading of Forward Industries
A hedge fund recently raised its stake in Forward Industries stock. Renaissance Technologies LLC grew its stake in shares of Forward Industries, Inc. (NASDAQ:FORD – Get Rating) by 1.5% in the second quarter, according to the company in its most recent filing with the Securities and Exchange Commission (SEC). The fund owned 602,440 shares of the textile maker's stock after acquiring an additional 8,800 shares during the quarter. Renaissance Technologies LLC owned about 5.99% of Forward Industries worth $886,000 at the end of the most recent quarter. 19.12% of the stock is owned by institutional investors and hedge funds.
Wall Street Analyst Weigh In
Separately, StockNews.com started coverage on shares of Forward Industries in a report on Monday. They issued a "hold" rating on the stock.
Forward Industries Stock Performance
Want More Great Investing Ideas?
Shares of
NASDAQ:FORD
opened at $1.13 on Wednesday. Forward Industries has a 52 week low of $1.01 and a 52 week high of $1.94. The company has a quick ratio of 0.98, a current ratio of 1.34 and a debt-to-equity ratio of 0.23. The firm has a fifty day simple moving average of $1.21 and a two-hundred day simple moving average of $1.26. The stock has a market capitalization of $11.37 million, a P/E ratio of -5.65 and a beta of 0.53.
Forward Industries (NASDAQ:FORD – Get Rating) last issued its quarterly earnings results on Friday, December 16th. The textile maker reported ($0.08) earnings per share (EPS) for the quarter. The company had revenue of $9.82 million for the quarter. Forward Industries had a negative net margin of 4.79% and a negative return on equity of 30.01%.
About Forward Industries
Forward Industries, Inc engages in the provision of integrated design, development, and manufacturing solutions for top tier medical and technology customers worldwide. It operates through the following segments: OEM Distribution, Retail Distribution, and Design. The OEM Distribution segment sources and distributes carrying cases and other accessories for medical monitoring and diagnostic kits and a variety of other portable electronic and non-electronic devices.
Recommended Stories
Receive News & Ratings for Forward Industries Daily - Enter your email address below to receive a concise daily summary of the latest news and analysts' ratings for Forward Industries and related companies with MarketBeat.com's FREE daily email newsletter.