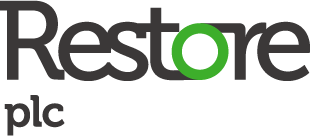 Restore plc (LON:RST – Get Rating) passed below its 200-day moving average during trading on Tuesday . The stock has a 200-day moving average of GBX 354.71 ($4.32) and traded as low as GBX 315 ($3.84). Restore shares last traded at GBX 316 ($3.85), with a volume of 410,021 shares traded.
Analyst Ratings Changes
A number of equities analysts have recently weighed in on RST shares. Canaccord Genuity Group reaffirmed a "buy" rating and issued a GBX 590 ($7.19) price target on shares of Restore in a research note on Wednesday, February 1st. Berenberg Bank lowered their target price on shares of Restore from GBX 500 ($6.09) to GBX 450 ($5.48) and set a "buy" rating on the stock in a research report on Tuesday, November 22nd.
Restore Price Performance
The company has a quick ratio of 1.28, a current ratio of 1.31 and a debt-to-equity ratio of 88.96. The stock has a market capitalization of £432.67 million, a price-to-earnings ratio of 2,257.14, a P/E/G ratio of 0.41 and a beta of 0.63. The company's 50-day simple moving average is GBX 322.40 and its 200 day simple moving average is GBX 354.71.
Restore Company Profile
Want More Great Investing Ideas?
(
Get Rating
)
Restore plc, together with its subsidiaries, provides offices and workplaces services to the public and private sectors primarily in the United Kingdom. The company operates through two segments, Digital & Information Management, and Secure Lifecycle Services. The Digital & Information Management segment offers storage and retrieval solutions for hard copy documents, magnetic data storage tapes, and heritage assets; digital workflow services, including document scanning, workflow automation, cloud-based document management systems, robotic process automation, and artificial intelligence.
Further Reading
Receive News & Ratings for Restore Daily - Enter your email address below to receive a concise daily summary of the latest news and analysts' ratings for Restore and related companies with MarketBeat.com's FREE daily email newsletter.