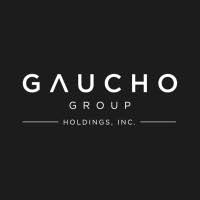 Shares of Gaucho Group Holdings, Inc. (OTCMKTS:VINO – Get Rating) crossed below its 50 day moving average during trading on Thursday . The stock has a 50 day moving average of $1.42 and traded as low as $1.02. Gaucho Group shares last traded at $1.09, with a volume of 57,685 shares changing hands.
Gaucho Group Trading Up 2.8 %
The company's 50-day moving average is $1.42 and its two-hundred day moving average is $2.09.
Institutional Investors Weigh In On Gaucho Group
An institutional investor recently raised its position in Gaucho Group stock. Citadel Advisors LLC lifted its position in Gaucho Group Holdings, Inc. (OTCMKTS:VINO – Get Rating) by 256.3% during the 3rd quarter, according to its most recent disclosure with the SEC. The fund owned 315,338 shares of the company's stock after purchasing an additional 226,831 shares during the period. Citadel Advisors LLC owned about 11.47% of Gaucho Group worth $71,000 as of its most recent SEC filing. 33.24% of the stock is currently owned by institutional investors and hedge funds.
About Gaucho Group
Want More Great Investing Ideas?
(
Get Rating
)
Gaucho Group Holdings, Inc engages in the development and operation of real estate projects. It operates through the Real Estate Development, Fashion and E-Commerce, and Corporate. The Real Estate Development segment includes hospitality and winery operations. The Fashion and E-Commerce segment focuses on the manufacture and sale of high-end fashion and accessories sold through an e-commerce platform.
Featured Stories
Receive News & Ratings for Gaucho Group Daily - Enter your email address below to receive a concise daily summary of the latest news and analysts' ratings for Gaucho Group and related companies with MarketBeat.com's FREE daily email newsletter.