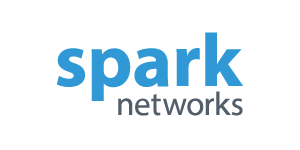 StockNews.com began coverage on shares of Spark Networks (NYSE:LOV – Get Rating) in a note issued to investors on Friday. The brokerage set a "hold" rating on the stock.
Separately, B. Riley reduced their price target on Spark Networks from $6.00 to $3.00 and set a "buy" rating on the stock in a research report on Thursday, March 9th.
Spark Networks Price Performance
LOV opened at $0.97 on Friday. The company has a current ratio of 0.34, a quick ratio of 0.34 and a debt-to-equity ratio of 5.83. The firm has a market cap of $2.53 million, a price-to-earnings ratio of -0.11 and a beta of 1.34. The stock's 50-day moving average price is $0.94 and its 200 day moving average price is $1.41. Spark Networks has a 12-month low of $0.52 and a 12-month high of $3.85.
Insider Activity
Want More Great Investing Ideas?
In other news, major shareholder Osmium Partners, Llc sold 150,000 shares of the stock in a transaction dated Tuesday, December 27th. The stock was sold at an average price of $0.70, for a total value of $105,000.00. Following the transaction, the insider now owns 4,931,203 shares in the company, valued at approximately $3,451,842.10. The transaction was disclosed in a document filed with the SEC, which is available at
this hyperlink
. In the last 90 days, insiders have sold 226,701 shares of company stock worth $171,513. 4.70% of the stock is currently owned by insiders.
Hedge Funds Weigh In On Spark Networks
A hedge fund recently raised its stake in Spark Networks stock. Ridgewood Investments LLC boosted its holdings in Spark Networks SE (NYSE:LOV – Get Rating) by 43.8% during the fourth quarter, according to the company in its most recent filing with the Securities and Exchange Commission. The fund owned 305,558 shares of the company's stock after acquiring an additional 93,102 shares during the period. Ridgewood Investments LLC owned 11.66% of Spark Networks worth $199,000 as of its most recent filing with the Securities and Exchange Commission.
About Spark Networks
Spark Networks SE operates as a social dating platform for meaningful relationships. Its premium and freemium dating apps include Zoosk, EliteSingles, SilverSingles, Christian Mingle, Jdate, and JSwipe, among others. It operates through the following segments: Zoosk and Spark. The company was founded on April 5, 2017 and is headquartered in Berlin, Germany.
Featured Stories
Receive News & Ratings for Spark Networks Daily - Enter your email address below to receive a concise daily summary of the latest news and analysts' ratings for Spark Networks and related companies with MarketBeat.com's FREE daily email newsletter.