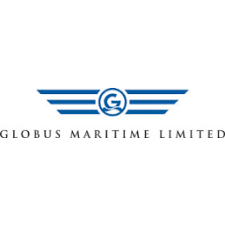 Analysts at StockNews.com assumed coverage on shares of Globus Maritime (NASDAQ:GLBS – Get Rating) in a research report issued to clients and investors on Sunday. The firm set a "hold" rating on the shipping company's stock.
Globus Maritime Stock Performance
Shares of Globus Maritime stock opened at $1.09 on Friday. The firm's fifty day simple moving average is $1.16 and its 200-day simple moving average is $1.26. Globus Maritime has a 12 month low of $1.03 and a 12 month high of $2.66. The stock has a market capitalization of $11.52 million, a price-to-earnings ratio of 0.55 and a beta of 0.17. The company has a debt-to-equity ratio of 0.22, a current ratio of 5.96 and a quick ratio of 5.83.
Institutional Trading of Globus Maritime
Several large investors have recently added to or reduced their stakes in the business. Advisor Group Holdings Inc. purchased a new position in Globus Maritime in the 1st quarter worth about $25,000. Renaissance Technologies LLC raised its stake in Globus Maritime by 733.9% during the 1st quarter. Renaissance Technologies LLC now owns 235,499 shares of the shipping company's stock valued at $544,000 after purchasing an additional 207,259 shares during the last quarter. Finally, Millennium Management LLC acquired a new stake in Globus Maritime during the second quarter worth about $629,000. 8.40% of the stock is currently owned by institutional investors and hedge funds.
Globus Maritime Company Profile
Want More Great Investing Ideas?
(
Get Rating
)
Globus Maritime Ltd. is a holding company, which engages in the provision of marine transportation services. It owns, operates, and manages dry bulk vessels that transport iron ore, coal, grain, steel products, cement, alumina and other dry bulk cargoes internationally. The company was founded by Athanasios Georgios Feidakis and Georgios Karageorgiou on July 26, 2006 and is headquartered in Athens, Greece.
Further Reading
Receive News & Ratings for Globus Maritime Daily - Enter your email address below to receive a concise daily summary of the latest news and analysts' ratings for Globus Maritime and related companies with MarketBeat.com's FREE daily email newsletter.