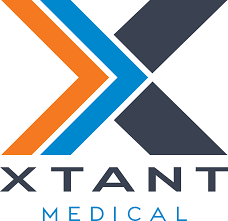 Shares of Xtant Medical Holdings, Inc. (NYSEAMERICAN:XTNT – Get Rating) passed above its 200-day moving average during trading on Friday . The stock has a 200-day moving average of $0.00 and traded as high as $0.64. Xtant Medical shares last traded at $0.64, with a volume of 4,070 shares trading hands.
Analyst Ratings Changes
Separately, Craig Hallum started coverage on Xtant Medical in a research report on Wednesday, April 26th. They set a "buy" rating for the company.
Xtant Medical Stock Performance
The stock has a market capitalization of $69.70 million, a PE ratio of -7.11 and a beta of 0.62. The company has a quick ratio of 1.05, a current ratio of 2.12 and a debt-to-equity ratio of 0.38.
Want More Great Investing Ideas?
Xtant Medical (
NYSEAMERICAN:XTNT
–
Get Rating
) last released its quarterly earnings results on Tuesday, March 7th. The medical device company reported ($0.02) earnings per share for the quarter. Xtant Medical had a negative net margin of 13.26% and a negative return on equity of 26.14%. The business had revenue of $15.27 million for the quarter.
Institutional Inflows and Outflows
An institutional investor recently bought a new position in Xtant Medical stock. Virtu Financial LLC purchased a new stake in shares of Xtant Medical Holdings, Inc. (NYSEAMERICAN:XTNT – Get Rating) during the 1st quarter, according to its most recent Form 13F filing with the Securities and Exchange Commission (SEC). The institutional investor purchased 75,240 shares of the medical device company's stock, valued at approximately $48,000. Virtu Financial LLC owned about 0.07% of Xtant Medical at the end of the most recent reporting period. 81.83% of the stock is owned by hedge funds and other institutional investors.
Xtant Medical Company Profile
Xtant Medical Holdings, Inc designs, and develops orthobiologics and spinal implant fixation systems to facilitate spinal fusion in complex spine, deformity, and degenerative procedures. Its products include OsteoSponge, OsteoSponge SC, OsteoSelect DBM putty, OsteoSelect Plus DBM putty, OsteoWrap, OsteoSTX, Certex Spinal Fixation System, Axle Interspinous Fusion System, and Calix.
Recommended Stories
Receive News & Ratings for Xtant Medical Daily - Enter your email address below to receive a concise daily summary of the latest news and analysts' ratings for Xtant Medical and related companies with MarketBeat.com's FREE daily email newsletter.