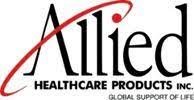 Investment analysts at StockNews.com began coverage on shares of Allied Healthcare Products (NASDAQ:AHPI – Get Rating) in a note issued to investors on Saturday. The brokerage set a "sell" rating on the medical equipment provider's stock.
Allied Healthcare Products Stock Performance
Shares of NASDAQ AHPI opened at $0.00 on Friday. The stock has a market capitalization of $16,052.00, a PE ratio of 0.00 and a beta of -2.39. Allied Healthcare Products has a 1 year low of $0.00 and a 1 year high of $3.46.
Institutional Inflows and Outflows
An institutional investor recently bought a new position in Allied Healthcare Products stock. Millennium Management LLC bought a new stake in Allied Healthcare Products, Inc. (NASDAQ:AHPI – Get Rating) during the 2nd quarter, according to the company in its most recent disclosure with the Securities and Exchange Commission. The firm bought 15,578 shares of the medical equipment provider's stock, valued at approximately $25,000. Millennium Management LLC owned about 0.39% of Allied Healthcare Products at the end of the most recent quarter. Institutional investors own 4.15% of the company's stock.
Allied Healthcare Products Company Profile
Want More Great Investing Ideas?
(
Get Rating
)
Allied Healthcare Products, Inc engages in manufacturing respiratory products used in the health care industry in hospitals and alternate site settings, including sub-acute care facilities, home health care and emergency medical care. Its product line includes respiratory care products, medical gas equipment, and emergency medical products.
Featured Articles
Receive News & Ratings for Allied Healthcare Products Daily - Enter your email address below to receive a concise daily summary of the latest news and analysts' ratings for Allied Healthcare Products and related companies with MarketBeat.com's FREE daily email newsletter.