Denbury Inc. (NYSE:DEN – Get Rating) – Investment analysts at Capital One Financial lowered their FY2024 EPS estimates for Denbury in a research note issued on Thursday, May 18th. Capital One Financial analyst B. Velie now forecasts that the company will post earnings per share of $6.48 for the year, down from their prior forecast of $7.62. The consensus estimate for Denbury's current full-year earnings is $6.21 per share.
Denbury (NYSE:DEN – Get Rating) last posted its quarterly earnings results on Wednesday, May 3rd. The company reported $1.36 EPS for the quarter, missing analysts' consensus estimates of $1.40 by ($0.04). The company had revenue of $341.02 million during the quarter, compared to analyst estimates of $336.21 million. Denbury had a return on equity of 23.71% and a net margin of 34.69%. The company's revenue for the quarter was down 17.2% compared to the same quarter last year. During the same quarter in the previous year, the business posted $1.69 earnings per share.
Want More Great Investing Ideas?
A number of other research analysts have also recently issued reports on the stock. Roth Capital reiterated a "buy" rating on shares of Denbury in a report on Thursday, February 23rd. Stifel Nicolaus boosted their price target on shares of Denbury from $138.00 to $140.00 in a report on Thursday, April 27th. Finally, TheStreet upgraded shares of Denbury from a "c" rating to a "b-" rating in a report on Monday, March 27th. One analyst has rated the stock with a sell rating and six have given a buy rating to the company's stock. Based on data from MarketBeat.com, the company has an average rating of "Moderate Buy" and an average target price of $103.57.
Denbury Trading Down 0.9 %
NYSE:DEN opened at $91.07 on Monday. The stock has a market capitalization of $4.58 billion, a price-to-earnings ratio of 8.64 and a beta of 2.70. The firm has a fifty day simple moving average of $88.72 and a two-hundred day simple moving average of $87.44. Denbury has a 12 month low of $56.59 and a 12 month high of $104.05. The company has a current ratio of 0.71, a quick ratio of 0.71 and a debt-to-equity ratio of 0.04.
Insider Activity at Denbury
In related news, CAO Nicole H. Jennings sold 618 shares of the company's stock in a transaction that occurred on Monday, March 13th. The shares were sold at an average price of $78.85, for a total transaction of $48,729.30. Following the sale, the chief accounting officer now directly owns 60,443 shares in the company, valued at approximately $4,765,930.55. The sale was disclosed in a filing with the Securities & Exchange Commission, which is accessible through this link. 0.02% of the stock is currently owned by corporate insiders.
Institutional Trading of Denbury
Institutional investors and hedge funds have recently bought and sold shares of the company. Victory Capital Management Inc. lifted its stake in Denbury by 6,089.3% in the 3rd quarter. Victory Capital Management Inc. now owns 424,646 shares of the company's stock worth $36,630,000 after purchasing an additional 417,785 shares in the last quarter. Fox Run Management L.L.C. bought a new position in shares of Denbury in the 4th quarter worth $970,000. Swiss National Bank increased its holdings in shares of Denbury by 0.5% in the 4th quarter. Swiss National Bank now owns 120,000 shares of the company's stock worth $10,442,000 after buying an additional 600 shares during the last quarter. FNY Investment Advisers LLC bought a new position in shares of Denbury in the 4th quarter worth $195,000. Finally, Cohen & Steers Inc. bought a new position in shares of Denbury in the 3rd quarter worth $2,141,000.
Denbury Company Profile
Denbury Inc, an independent energy company, focuses on producing oil from mature oil fields in the Gulf Coast and Rocky Mountain regions. The company holds interests in various oil and natural gas properties located in Mississippi, Texas, and Louisiana in the Gulf Coast region; and in Montana, North Dakota, and Wyoming in the Rocky Mountain region.
Read More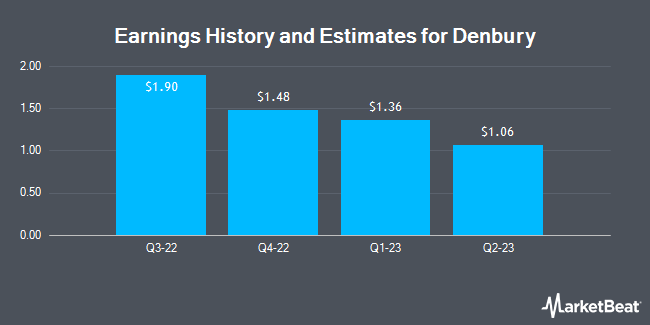 Receive News & Ratings for Denbury Daily - Enter your email address below to receive a concise daily summary of the latest news and analysts' ratings for Denbury and related companies with MarketBeat.com's FREE daily email newsletter.