Tingo Group, Inc. (NASDAQ:TIO – Get Rating) – Research analysts at Taglich Brothers boosted their Q2 2023 earnings per share estimates for shares of Tingo Group in a research note issued on Wednesday, May 17th. Taglich Brothers analyst H. Halpern now forecasts that the company will post earnings of $0.39 per share for the quarter, up from their previous estimate of $0.31. The consensus estimate for Tingo Group's current full-year earnings is $1.83 per share. Taglich Brothers also issued estimates for Tingo Group's Q3 2023 earnings at $0.49 EPS, FY2023 earnings at $1.83 EPS and Q4 2024 earnings at $1.59 EPS.
Separately, TheStreet raised shares of Tingo Group from a "d" rating to a "c-" rating in a report on Friday, April 21st.
Tingo Group Trading Up 14.7 %
Want More Great Investing Ideas?
NASDAQ:TIO
opened at $5.32 on Monday. Tingo Group has a one year low of $0.54 and a one year high of $5.45. The company has a debt-to-equity ratio of 0.22, a quick ratio of 2.00 and a current ratio of 2.06. The stock has a 50-day simple moving average of $1.90.
Tingo Group Company Profile
Tingo Group, Inc operates through its subsidiaries, focused on the growth and development of its financial technology offerings. The firm uses its proprietary trading technology platforms to serve a range of growth sectors in the fintech space, including online brokerage for equities trading, online investment and wealth management services, sales of insurance products, and trading in certain commodities.
Featured Stories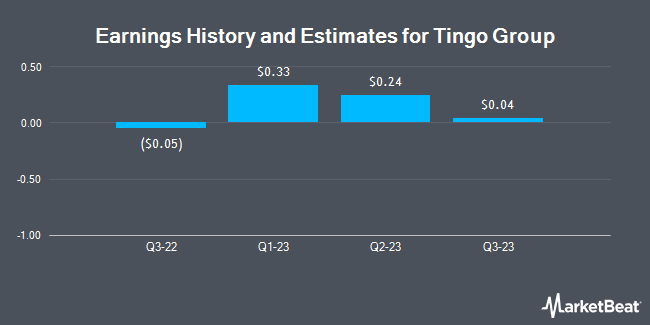 Receive News & Ratings for Tingo Group Daily - Enter your email address below to receive a concise daily summary of the latest news and analysts' ratings for Tingo Group and related companies with MarketBeat.com's FREE daily email newsletter.