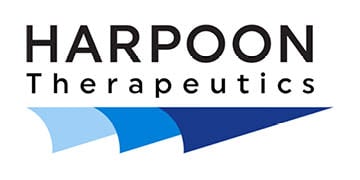 Harpoon Therapeutics, Inc. (NASDAQ:HARP – Get Rating) has been assigned a consensus rating of "Moderate Buy" from the eight ratings firms that are currently covering the stock, Marketbeat.com reports. One equities research analyst has rated the stock with a hold recommendation and five have assigned a buy recommendation to the company. The average 12-month target price among brokers that have issued ratings on the stock in the last year is $4.71.
Several equities analysts have recently commented on HARP shares. Canaccord Genuity Group lowered their price objective on Harpoon Therapeutics from $16.00 to $8.00 and set a "buy" rating on the stock in a research report on Monday, April 3rd. HC Wainwright lowered their price target on Harpoon Therapeutics from $7.00 to $4.50 and set a "buy" rating on the stock in a report on Wednesday, March 29th. Finally, 500.com restated a "reiterates" rating on shares of Harpoon Therapeutics in a research note on Monday, May 15th.
Insider Buying and Selling at Harpoon Therapeutics
In other Harpoon Therapeutics news, Director Ronald Hunt bought 10,000 shares of the business's stock in a transaction that occurred on Thursday, March 23rd. The stock was purchased at an average cost of $1,000.00 per share, with a total value of $10,000,000.00. Following the completion of the acquisition, the director now owns 10,000 shares in the company, valued at approximately $10,000,000. The acquisition was disclosed in a document filed with the Securities & Exchange Commission, which is available through this link. 13.00% of the stock is currently owned by company insiders.
Institutional Trading of Harpoon Therapeutics
Want More Great Investing Ideas?
Several hedge funds and other institutional investors have recently bought and sold shares of HARP. Piper Sandler & CO. bought a new stake in Harpoon Therapeutics in the third quarter worth about $563,000. Millennium Management LLC lifted its stake in shares of Harpoon Therapeutics by 3,145.9% during the 2nd quarter. Millennium Management LLC now owns 579,919 shares of the company's stock worth $1,108,000 after acquiring an additional 562,053 shares during the last quarter. Levin Capital Strategies L.P. purchased a new position in Harpoon Therapeutics during the 4th quarter valued at $239,000. Renaissance Technologies LLC boosted its holdings in Harpoon Therapeutics by 51.6% during the 3rd quarter. Renaissance Technologies LLC now owns 481,041 shares of the company's stock valued at $467,000 after acquiring an additional 163,680 shares during the period. Finally, BlackRock Inc. grew its position in Harpoon Therapeutics by 5.6% in the 1st quarter. BlackRock Inc. now owns 1,809,686 shares of the company's stock valued at $8,994,000 after acquiring an additional 95,355 shares during the last quarter. Hedge funds and other institutional investors own 65.52% of the company's stock.
Harpoon Therapeutics Trading Up 1.8 %
Harpoon Therapeutics stock opened at $0.76 on Friday. Harpoon Therapeutics has a 12-month low of $0.54 and a 12-month high of $3.35. The firm has a market capitalization of $24.52 million, a price-to-earnings ratio of -0.44 and a beta of 1.56. The firm has a 50 day moving average of $0.68 and a 200 day moving average of $0.77.
Harpoon Therapeutics (NASDAQ:HARP – Get Rating) last posted its quarterly earnings results on Monday, March 27th. The company reported ($0.55) earnings per share for the quarter, missing analysts' consensus estimates of ($0.47) by ($0.08). Harpoon Therapeutics had a negative return on equity of 473.13% and a negative net margin of 169.83%. The firm had revenue of $4.09 million during the quarter, compared to the consensus estimate of $11.06 million. On average, analysts predict that Harpoon Therapeutics will post -1.13 EPS for the current year.
Harpoon Therapeutics Company Profile
Harpoon Therapeutics, Inc is a clinical-stage immunotherapy company, which engages in the development of antibodies. It focuses on the research of novel class of T cell engagers that harness the power of the body's immune system to treat patients suffering from cancer and other diseases. The firm utilizes its proprietary Tri-specific T cell Activating Construct platform to create a pipeline of novel TriTACs for the treatment of solid tumors and hematologic malignancies.
Featured Stories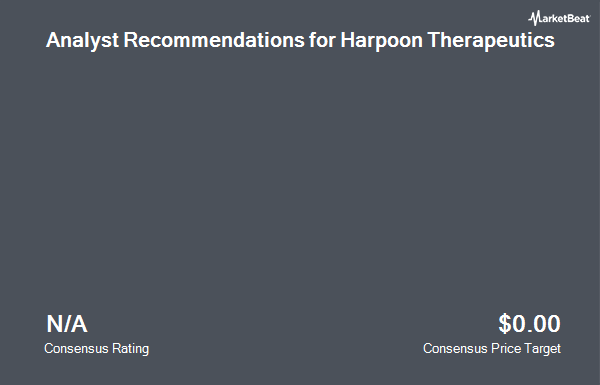 Receive News & Ratings for Harpoon Therapeutics Daily - Enter your email address below to receive a concise daily summary of the latest news and analysts' ratings for Harpoon Therapeutics and related companies with MarketBeat.com's FREE daily email newsletter.