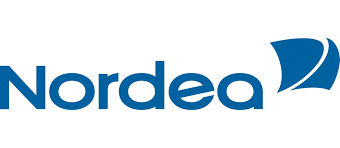 Nordea Bank Abp (OTCMKTS:NRDBY – Get Rating)'s share price fell 0.2% during trading on Monday . The company traded as low as $10.39 and last traded at $10.42. 146,514 shares traded hands during mid-day trading, an increase of 62% from the average session volume of 90,496 shares. The stock had previously closed at $10.44.
Nordea Bank Abp Trading Down 0.2 %
The stock has a market cap of $37.56 billion, a price-to-earnings ratio of 8.34, a P/E/G ratio of 0.71 and a beta of 1.06. The business's fifty day simple moving average is $10.88 and its 200 day simple moving average is $11.12. The company has a debt-to-equity ratio of 5.90, a current ratio of 1.40 and a quick ratio of 1.40.
Nordea Bank Abp (OTCMKTS:NRDBY – Get Rating) last announced its quarterly earnings results on Thursday, April 27th. The company reported $0.33 earnings per share (EPS) for the quarter, beating the consensus estimate of $0.26 by $0.07. Nordea Bank Abp had a net margin of 28.51% and a return on equity of 14.35%. The company had revenue of $3.13 billion during the quarter. On average, research analysts predict that Nordea Bank Abp will post 1.36 EPS for the current year.
Nordea Bank Abp Increases Dividend
Want More Great Investing Ideas?
The company also recently declared a dividend, which was paid on Monday, April 10th. Stockholders of record on Monday, March 27th were issued a dividend of $0.7152 per share. This is an increase from Nordea Bank Abp's previous dividend of $0.49. The ex-dividend date of this dividend was Friday, March 24th. This represents a dividend yield of 6.4%. Nordea Bank Abp's payout ratio is 56.80%.
Nordea Bank Abp Company Profile
Nordea Bank Abp engages in the provision of banking and financial services. It operates through the following segments: Personal Banking, Business Banking, Large Corporates and Institutions, and Asset and Wealth Management. The Personal Banking segment offers the household customers financial services and solutions through internet and mobile bank, over the phone, online meetings, and branch offices.
Further Reading
Receive News & Ratings for Nordea Bank Abp Daily - Enter your email address below to receive a concise daily summary of the latest news and analysts' ratings for Nordea Bank Abp and related companies with MarketBeat.com's FREE daily email newsletter.