Shares of Schneider Electric S.E. (OTCMKTS:SBGSY – Get Rating) have received an average recommendation of "Moderate Buy" from the ten ratings firms that are presently covering the company, MarketBeat Ratings reports. One research analyst has rated the stock with a hold rating and five have issued a buy rating on the company. The average 12 month price objective among analysts that have covered the stock in the last year is $146.60.
Separately, JPMorgan Chase & Co. began coverage on Schneider Electric S.E. in a report on Friday, March 10th. They set an "overweight" rating for the company.
Schneider Electric S.E. Trading Down 2.1 %
OTCMKTS:SBGSY opened at $34.96 on Wednesday. The company has a quick ratio of 0.66, a current ratio of 0.87 and a debt-to-equity ratio of 0.28. The stock's 50-day simple moving average is $33.25 and its 200 day simple moving average is $31.49. Schneider Electric S.E. has a 52-week low of $21.37 and a 52-week high of $35.85.
Schneider Electric S.E. Increases Dividend
Want More Great Investing Ideas?
The firm also recently declared a dividend, which will be paid on Thursday, June 1st. Investors of record on Wednesday, May 10th will be issued a dividend of $0.5326 per share. The ex-dividend date of this dividend is Tuesday, May 9th. This represents a yield of 1.54%. This is a boost from Schneider Electric S.E.'s previous dividend of $0.46.
About Schneider Electric S.E.
Schneider Electric SE engages in the digital transformation of energy management and automation. It operates through the following segments: Energy Management, Industrial Automation, and Central Functions and Digital Costs. The Energy Management segment leverages a complete end-to-end technology offering enabled by EcoStruxure.
See Also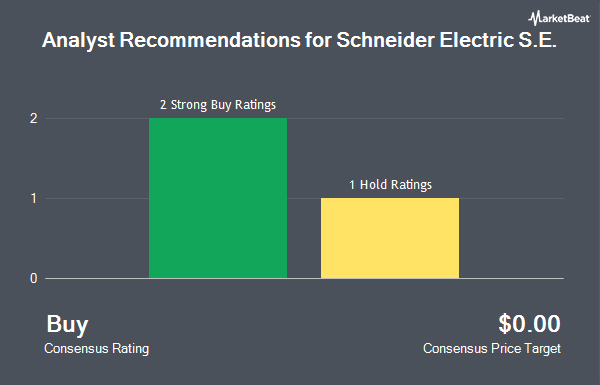 Receive News & Ratings for Schneider Electric S.E. Daily - Enter your email address below to receive a concise daily summary of the latest news and analysts' ratings for Schneider Electric S.E. and related companies with MarketBeat.com's FREE daily email newsletter.