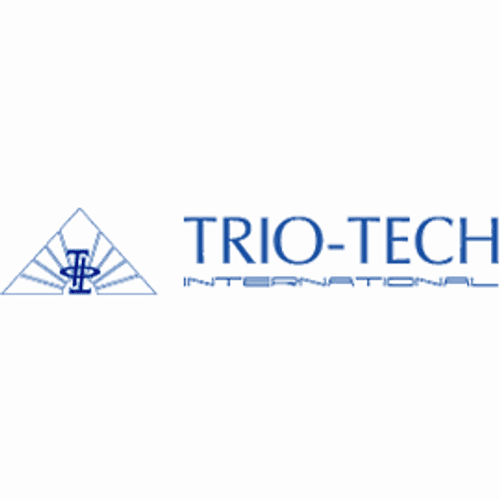 Trio-Tech International (NYSEAMERICAN:TRT – Get Rating) shares passed below its 200-day moving average during trading on Tuesday . The stock has a 200-day moving average of $4.72 and traded as low as $4.48. Trio-Tech International shares last traded at $4.56, with a volume of 1,221 shares changing hands.
Analyst Ratings Changes
Separately, StockNews.com started coverage on shares of Trio-Tech International in a research report on Thursday, April 27th. They set a "hold" rating on the stock.
Trio-Tech International Price Performance
The company has a quick ratio of 2.05, a current ratio of 2.33 and a debt-to-equity ratio of 0.05. The business's 50-day moving average is $4.55 and its two-hundred day moving average is $4.72. The company has a market capitalization of $18.59 million, a P/E ratio of 8.14 and a beta of 1.31.
Insider Buying and Selling
Want More Great Investing Ideas?
In related news, Director Jason T. Adelman sold 12,500 shares of the firm's stock in a transaction dated Thursday, March 16th. The shares were sold at an average price of $4.58, for a total transaction of $57,250.00. Following the completion of the sale, the director now owns 20,000 shares in the company, valued at $91,600. The transaction was disclosed in a filing with the Securities & Exchange Commission, which is accessible through
this link
. 48.40% of the stock is currently owned by corporate insiders.
Institutional Trading of Trio-Tech International
A hedge fund recently raised its stake in Trio-Tech International stock. Acadian Asset Management LLC raised its holdings in Trio-Tech International (NYSEAMERICAN:TRT – Get Rating) by 6.2% in the 1st quarter, according to its most recent Form 13F filing with the Securities & Exchange Commission. The institutional investor owned 54,686 shares of the company's stock after purchasing an additional 3,214 shares during the period. Acadian Asset Management LLC owned 1.38% of Trio-Tech International worth $393,000 at the end of the most recent reporting period. 16.70% of the stock is owned by institutional investors and hedge funds.
About Trio-Tech International
Trio-Tech International engages in the provision of third-party semiconductor testing and burn-in services. It operates through the following segments: Manufacturing, Testing Services, Distribution, and Real Estate. The Manufacturing segment produces both front-end and back-end semiconductor test equipment and related peripherals.
Further Reading
Receive News & Ratings for Trio-Tech International Daily - Enter your email address below to receive a concise daily summary of the latest news and analysts' ratings for Trio-Tech International and related companies with MarketBeat.com's FREE daily email newsletter.