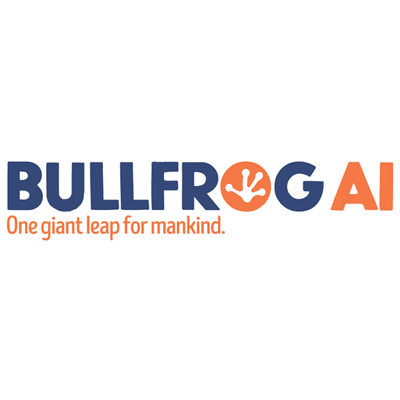 Bullfrog AI Holdings, Inc. (NASDAQ:BFRG – Get Rating) fell 4.3% on Thursday . The company traded as low as $4.41 and last traded at $4.73. 853,394 shares changed hands during mid-day trading, a decline of 54% from the average session volume of 1,837,378 shares. The stock had previously closed at $4.94.
Bullfrog AI Stock Performance
The stock's fifty day moving average price is $4.84.
Institutional Investors Weigh In On Bullfrog AI
An institutional investor recently bought a new position in Bullfrog AI stock. Sabby Management LLC acquired a new stake in shares of Bullfrog AI Holdings, Inc. (NASDAQ:BFRG – Get Rating) in the first quarter, according to its most recent disclosure with the Securities & Exchange Commission. The institutional investor acquired 150,776 shares of the company's stock, valued at approximately $511,000. Bullfrog AI makes up about 0.4% of Sabby Management LLC's holdings, making the stock its 19th biggest position. Sabby Management LLC owned 2.48% of Bullfrog AI at the end of the most recent quarter.
Bullfrog AI Company Profile
Want More Great Investing Ideas?
(
Get Rating
)
BullFrog AI Holdings Inc is a digital biopharmaceutical company which focuses on artificial intelligence and machine learning driven analysis of data sets in medicine and healthcare principally in the United States. BullFrog AI Holdings Inc is based in Gaithersburg, Maryland.
Featured Stories
Receive News & Ratings for Bullfrog AI Daily - Enter your email address below to receive a concise daily summary of the latest news and analysts' ratings for Bullfrog AI and related companies with MarketBeat.com's FREE daily email newsletter.