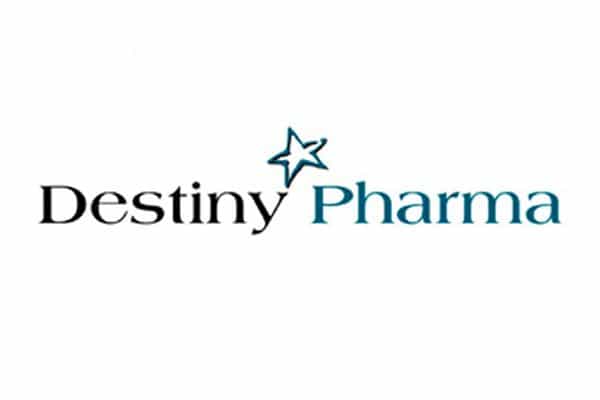 Destiny Pharma plc (LON:DEST – Get Rating) insider Nick Rodgers bought 49,477 shares of the stock in a transaction that occurred on Thursday, May 25th. The stock was bought at an average cost of GBX 31 ($0.39) per share, for a total transaction of £15,337.87 ($19,076.95).
Nick Rodgers also recently made the following trade(s):
On Monday, February 27th, Nick Rodgers purchased 20,000 shares of Destiny Pharma stock. The shares were acquired at an average cost of GBX 34 ($0.42) per share, for a total transaction of £6,800 ($8,457.71).
Destiny Pharma Stock Up 0.7 %
LON:DEST opened at GBX 30 ($0.37) on Friday. Destiny Pharma plc has a twelve month low of GBX 27 ($0.34) and a twelve month high of GBX 61.85 ($0.77). The stock has a market cap of £28.58 million, a P/E ratio of -331.11 and a beta of 0.36. The firm's fifty day simple moving average is GBX 32.40 and its 200 day simple moving average is GBX 39.78.
Wall Street Analysts Forecast Growth
Want More Great Investing Ideas?
Separately, Shore Capital reaffirmed a "house stock" rating on shares of Destiny Pharma in a research note on Thursday, April 13th.
About Destiny Pharma
Destiny Pharma plc, a biotechnology company, focuses on the discovery, development, and commercialization of medicines for the treatment of infectious diseases in the United Kingdom. The company is involved in developing NTCD-M3 that is in Phase III clinical trial for the prevention of recurrent Clostridioides diffcile infections; XF-73 Nasal, which is in Phase II clinical trial for the prevention of post-surgical staphylococcal infection; and XF-73 Dermal that is in Phase I clinical trial for the treatment of skin infections of antibiotic resistant bacteria.
Further Reading
Receive News & Ratings for Destiny Pharma Daily - Enter your email address below to receive a concise daily summary of the latest news and analysts' ratings for Destiny Pharma and related companies with MarketBeat.com's FREE daily email newsletter.