easyJet (LON:EZJ – Get Rating) had its target price hoisted by Deutsche Bank Aktiengesellschaft from GBX 610 ($7.59) to GBX 635 ($7.90) in a research note released on Thursday morning, MarketBeat Ratings reports. The firm currently has a buy rating on the stock.
A number of other research firms have also recently commented on EZJ. The Goldman Sachs Group set a GBX 515 ($6.41) price target on shares of easyJet in a report on Tuesday, February 28th. UBS Group set a GBX 600 ($7.46) price target on shares of easyJet in a report on Monday, April 3rd. JPMorgan Chase & Co. upgraded shares of easyJet to a neutral rating and increased their price target for the company from GBX 370 ($4.60) to GBX 530 ($6.59) in a report on Thursday, April 27th. Liberum Capital restated a buy rating and issued a GBX 690 ($8.58) target price on shares of easyJet in a report on Monday. Finally, Barclays restated an overweight rating and issued a GBX 580 ($7.21) target price on shares of easyJet in a report on Friday, May 19th. One equities research analyst has rated the stock with a sell rating, one has issued a hold rating and four have assigned a buy rating to the stock. Based on data from MarketBeat, easyJet has an average rating of Moderate Buy and a consensus target price of GBX 594.09 ($7.39).
easyJet Trading Down 0.1 %
LON:EZJ opened at GBX 483.90 ($6.02) on Thursday. The company's 50 day moving average price is GBX 495 and its 200-day moving average price is GBX 450.66. easyJet has a 52 week low of GBX 276.87 ($3.44) and a 52 week high of GBX 582.71 ($7.25). The company has a quick ratio of 1.09, a current ratio of 1.34 and a debt-to-equity ratio of 170.15. The stock has a market cap of £3.67 billion, a price-to-earnings ratio of -2,202.27, a PEG ratio of 2.31 and a beta of 2.50.
easyJet Company Profile
Want More Great Investing Ideas?
(
Get Rating
)
easyJet plc operates as a low-cost airline carrier in Europe. It also engages in the sale of holiday packages; aircraft trading and leasing; development of building projects; financing and insurance business; and tour operator activities. As of September 30, 2022, it operated 320 aircrafts, 988 routes, and 153 airports.
Recommended Stories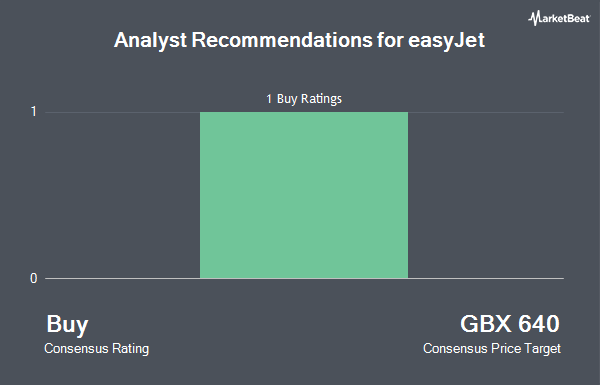 Receive News & Ratings for easyJet Daily - Enter your email address below to receive a concise daily summary of the latest news and analysts' ratings for easyJet and related companies with MarketBeat.com's FREE daily email newsletter.