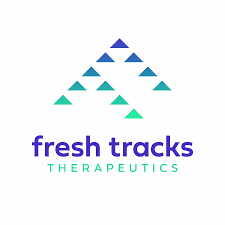 Shares of Fresh Tracks Therapeutics, Inc. (NASDAQ:FRTX – Get Rating) dropped 4.4% during trading on Thursday . The stock traded as low as $0.55 and last traded at $0.59. Approximately 30,278 shares changed hands during mid-day trading, a decline of 95% from the average daily volume of 586,906 shares. The stock had previously closed at $0.62.
Fresh Tracks Therapeutics Stock Performance
The firm's 50-day moving average is $0.62 and its 200 day moving average is $1.38. The stock has a market cap of $3.51 million, a PE ratio of -0.13 and a beta of 0.49.
Fresh Tracks Therapeutics Company Profile
Fresh Tracks Therapeutics, Inc engages in the development of prescription therapeutics for the treatment of skin diseases. Its pipeline consists of new molecular entities targeting the treatment of the following indications: hyperhidrosis, allergic contact dermatitis, androgenic alopecia, cutaneous t-cell lymphoma and psoriasis.
Further Reading
Receive News & Ratings for Fresh Tracks Therapeutics Daily - Enter your email address below to receive a concise daily summary of the latest news and analysts' ratings for Fresh Tracks Therapeutics and related companies with MarketBeat.com's FREE daily email newsletter.