Vivendi SE (OTCMKTS:VIVHY – Get Rating) has been assigned an average recommendation of "Moderate Buy" from the seven analysts that are presently covering the company, MarketBeat Ratings reports. One investment analyst has rated the stock with a hold rating and five have assigned a buy rating to the company. The average 1 year price objective among brokers that have updated their coverage on the stock in the last year is $12.90.
Separately, Barclays lowered Vivendi from an "overweight" rating to an "equal weight" rating in a research report on Wednesday.
Vivendi Trading Down 0.3 %
Vivendi stock opened at $9.06 on Wednesday. Vivendi has a fifty-two week low of $7.36 and a fifty-two week high of $12.19. The business's 50-day simple moving average is $10.28 and its two-hundred day simple moving average is $9.97.
Vivendi Increases Dividend
Want More Great Investing Ideas?
The business also recently announced a dividend, which was paid on Thursday, May 18th. Shareholders of record on Wednesday, April 26th were given a $0.192 dividend. This is an increase from Vivendi's previous dividend of $0.19. The ex-dividend date was Tuesday, April 25th. This represents a yield of 1.85%.
Vivendi Company Profile
Vivendi SE engages in the provision of media and telecommunications services. It operates through the following segments: Universal Music, Canal+, Havas, Editis, Gameloft, Vivendi Village, New Initiatives, and Corporate. The Universal Music segment includes sale of recorded music (digital and physical), exploitation of music publishing rights, as well as artist services and merchandising.
Featured Articles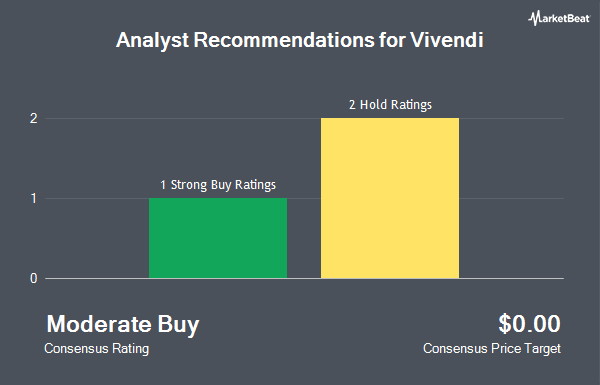 Receive News & Ratings for Vivendi Daily - Enter your email address below to receive a concise daily summary of the latest news and analysts' ratings for Vivendi and related companies with MarketBeat.com's FREE daily email newsletter.