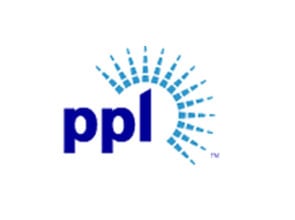 PPL Co. (NYSE:PPL – Get Free Report) declared a quarterly dividend on Friday, August 25th, RTT News reports. Shareholders of record on Friday, September 8th will be given a dividend of 0.24 per share by the utilities provider on Monday, October 2nd. This represents a $0.96 annualized dividend and a yield of 3.95%. The ex-dividend date is Thursday, September 7th.
PPL has decreased its dividend payment by an average of 19.1% annually over the last three years and has raised its dividend annually for the last 1 consecutive years. PPL has a payout ratio of 56.1% meaning its dividend is sufficiently covered by earnings. Analysts expect PPL to earn $1.72 per share next year, which means the company should continue to be able to cover its $0.96 annual dividend with an expected future payout ratio of 55.8%.
PPL Stock Performance
Shares of PPL stock opened at $24.29 on Wednesday. PPL has a 12 month low of $23.47 and a 12 month high of $31.74. The company has a quick ratio of 0.90, a current ratio of 1.09 and a debt-to-equity ratio of 1.04. The stock has a market cap of $17.90 billion, a PE ratio of 23.35, a price-to-earnings-growth ratio of 2.11 and a beta of 0.79. The business has a fifty day simple moving average of $26.23 and a 200-day simple moving average of $27.03.
Want More Great Investing Ideas?
PPL (
NYSE:PPL
–
Get Free Report
) last announced its quarterly earnings data on Friday, August 4th. The utilities provider reported $0.29 EPS for the quarter, missing analysts' consensus estimates of $0.32 by ($0.03). The business had revenue of $1.82 billion for the quarter, compared to analyst estimates of $1.27 billion. PPL had a return on equity of 7.75% and a net margin of 8.79%. The company's revenue was up 7.5% compared to the same quarter last year. During the same quarter in the previous year, the business posted $0.30 earnings per share. On average, sell-side analysts anticipate that PPL will post 1.58 EPS for the current fiscal year.
Analyst Upgrades and Downgrades
PPL has been the topic of several research reports. Barclays assumed coverage on shares of PPL in a research note on Wednesday, August 23rd. They issued an "equal weight" rating and a $26.00 price objective on the stock. Guggenheim dropped their price target on shares of PPL from $34.00 to $31.00 in a research note on Friday, July 7th. TheStreet cut PPL from a "b-" rating to a "c" rating in a research report on Friday, August 4th. StockNews.com assumed coverage on PPL in a research note on Thursday, August 17th. They issued a "hold" rating on the stock. Finally, Morgan Stanley cut their price target on PPL from $31.00 to $29.00 and set an "overweight" rating for the company in a research note on Wednesday, August 23rd. Three investment analysts have rated the stock with a hold rating and three have issued a buy rating to the company. According to data from MarketBeat, the stock presently has an average rating of "Moderate Buy" and a consensus target price of $30.17.
View Our Latest Analysis on PPL
Institutional Investors Weigh In On PPL
A number of large investors have recently bought and sold shares of PPL. Coppell Advisory Solutions Corp. acquired a new stake in shares of PPL in the fourth quarter worth about $25,000. Worth Asset Management LLC acquired a new stake in PPL in the 1st quarter worth approximately $27,000. Compass Wealth Management LLC acquired a new stake in PPL in the 4th quarter worth approximately $29,000. ICA Group Wealth Management LLC bought a new stake in PPL during the fourth quarter worth approximately $59,000. Finally, State of Wyoming acquired a new position in PPL during the fourth quarter valued at approximately $108,000. 73.09% of the stock is currently owned by institutional investors.
About PPL
PPL Corporation, an energy company, focuses on providing electricity and natural gas to approximately 3.5 million customers in the United States. It operates through three segments: Kentucky Regulated, Pennsylvania Regulated, and Rhode Island Regulated. The company delivers electricity to customers in Pennsylvania, Kentucky, Virginia, and Rhode Island; delivers natural gas to customers in Kentucky and Rhode Island; and generates electricity from power plants in Kentucky.
Read More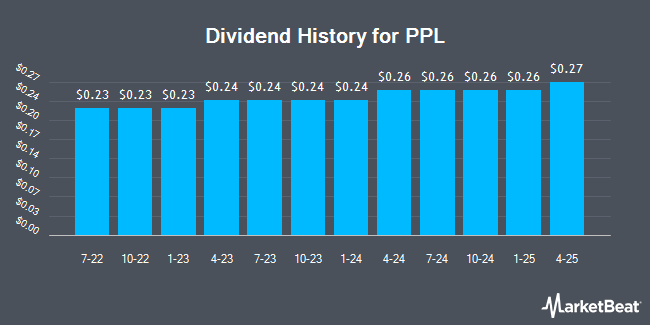 Receive News & Ratings for PPL Daily - Enter your email address below to receive a concise daily summary of the latest news and analysts' ratings for PPL and related companies with MarketBeat.com's FREE daily email newsletter.