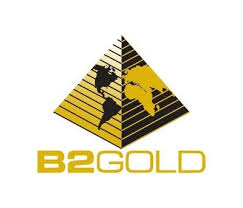 B2Gold Corp. (NYSEAMERICAN:BTG – Get Free Report) (TSE:BTO) declared a quarterly dividend on Thursday, September 7th, Wall Street Journal reports. Stockholders of record on Thursday, September 21st will be paid a dividend of 0.04 per share by the basic materials company on Friday, September 29th. This represents a $0.16 dividend on an annualized basis and a dividend yield of 5.31%. The ex-dividend date is Wednesday, September 20th.
B2Gold has raised its dividend payment by an average of 152.0% per year over the last three years. B2Gold has a dividend payout ratio of 53.3% indicating that its dividend is sufficiently covered by earnings. Equities analysts expect B2Gold to earn $0.35 per share next year, which means the company should continue to be able to cover its $0.16 annual dividend with an expected future payout ratio of 45.7%.
B2Gold Trading Up 0.2 %
NYSEAMERICAN BTG opened at $3.02 on Friday. The company has a market cap of $3.91 billion, a price-to-earnings ratio of 9.71 and a beta of 0.96. B2Gold has a 1-year low of $2.81 and a 1-year high of $4.40. The firm has a 50-day moving average of $3.80. The company has a debt-to-equity ratio of 0.01, a quick ratio of 1.72 and a current ratio of 2.79.
Want More Great Investing Ideas?
B2Gold (
NYSEAMERICAN:BTG
–
Get Free Report
) (TSE:BTO) last announced its quarterly earnings data on Wednesday, August 2nd. The basic materials company reported $0.07 earnings per share for the quarter, meeting the consensus estimate of $0.07. B2Gold had a return on equity of 10.31% and a net margin of 15.59%. The firm had revenue of $470.85 million during the quarter, compared to the consensus estimate of $463.73 million. During the same quarter in the previous year, the company posted $0.04 earnings per share. The business's revenue was up 23.3% on a year-over-year basis. As a group, equities research analysts forecast that B2Gold will post 0.35 earnings per share for the current fiscal year.
Analyst Upgrades and Downgrades
A number of equities research analysts have issued reports on BTG shares. Scotiabank cut their price target on shares of B2Gold from C$8.00 to C$7.75 in a report on Friday, August 4th. StockNews.com initiated coverage on B2Gold in a report on Wednesday, August 23rd. They set a "strong-buy" rating on the stock. TheStreet cut B2Gold from a "b-" rating to a "c+" rating in a report on Friday, June 16th. Finally, National Bank Financial lifted their price objective on B2Gold from C$7.25 to C$7.75 in a research report on Friday, May 12th. Two research analysts have rated the stock with a hold rating, two have assigned a buy rating and one has given a strong buy rating to the company's stock. According to MarketBeat.com, B2Gold currently has an average rating of "Moderate Buy" and a consensus target price of $6.42.
Get Our Latest Stock Report on BTG
Institutional Investors Weigh In On B2Gold
Several hedge funds and other institutional investors have recently added to or reduced their stakes in BTG. State of Wyoming bought a new position in shares of B2Gold during the second quarter valued at approximately $102,000. Atria Wealth Solutions Inc. purchased a new stake in shares of B2Gold in the 1st quarter worth approximately $92,000. ExodusPoint Capital Management LP bought a new position in B2Gold during the 2nd quarter valued at approximately $82,000. Eaton Vance Management purchased a new position in B2Gold during the first quarter valued at $65,000. Finally, Jefferies Financial Group Inc. bought a new stake in B2Gold in the fourth quarter worth $63,000. 51.52% of the stock is owned by hedge funds and other institutional investors.
B2Gold Company Profile
B2Gold Corp. operates as a gold producer with three operating mines in Mali, the Philippines, and Namibia. It operates the Fekola Mine in Mali, the Masbate Mine in the Philippines, and the Otjikoto Mine in Namibia. The company also has an 25% interest in the Calibre Mining Corp.; and approximately 19% interest in BeMetals Corp.
Recommended Stories
Receive News & Ratings for B2Gold Daily - Enter your email address below to receive a concise daily summary of the latest news and analysts' ratings for B2Gold and related companies with MarketBeat.com's FREE daily email newsletter.