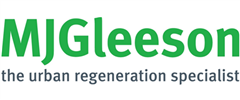 Shares of MJ Gleeson plc (LON:GLE – Get Free Report) crossed below its 200-day moving average during trading on Thursday . The stock has a 200-day moving average of GBX 412.29 ($5.21) and traded as low as GBX 369.04 ($4.66). MJ Gleeson shares last traded at GBX 373 ($4.71), with a volume of 23,127 shares.
Analysts Set New Price Targets
Separately, Berenberg Bank lifted their price objective on MJ Gleeson from GBX 470 ($5.94) to GBX 518 ($6.54) and gave the stock a "buy" rating in a report on Friday, May 12th.
Check Out Our Latest Stock Analysis on MJ Gleeson
MJ Gleeson Stock Up 0.5 %
Want More Great Investing Ideas?
The company has a debt-to-equity ratio of 1.48, a current ratio of 4.68 and a quick ratio of 0.89. The firm has a 50-day simple moving average of GBX 392.70 and a two-hundred day simple moving average of GBX 411.67. The company has a market cap of £218.78 million, a PE ratio of 765.31 and a beta of 1.00.
About MJ Gleeson
MJ Gleeson plc engages in low-cost house building and land promotion activities in the United Kingdom. The company operates through two divisions, Gleeson Homes and Gleeson Land. It also engages in the house building activities in the north of England and Midlands; and sale of land in the south of England.
Read More
Receive News & Ratings for MJ Gleeson Daily - Enter your email address below to receive a concise daily summary of the latest news and analysts' ratings for MJ Gleeson and related companies with MarketBeat.com's FREE daily email newsletter.