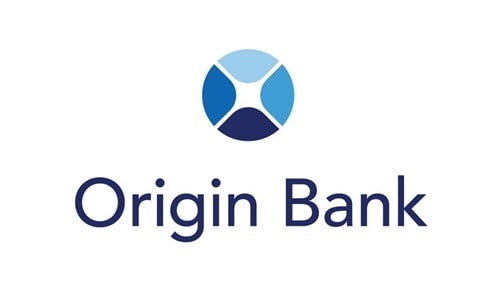 Origin Bancorp, Inc. (NASDAQ:OBK – Get Free Report) Director Jay Dyer sold 3,579 shares of the company's stock in a transaction that occurred on Monday, September 11th. The stock was sold at an average price of $29.36, for a total value of $105,079.44. Following the completion of the sale, the director now directly owns 36,770 shares of the company's stock, valued at approximately $1,079,567.20. The sale was disclosed in a filing with the Securities & Exchange Commission, which is available through this link.
Jay Dyer also recently made the following trade(s):
On Friday, August 25th, Jay Dyer sold 1,700 shares of Origin Bancorp stock. The stock was sold at an average price of $30.06, for a total transaction of $51,102.00.
Origin Bancorp Trading Up 2.8 %
NASDAQ OBK opened at $29.67 on Friday. The firm has a 50-day moving average of $31.08. The company has a debt-to-equity ratio of 0.54, a quick ratio of 0.95 and a current ratio of 0.95. Origin Bancorp, Inc. has a 1-year low of $25.59 and a 1-year high of $43.01. The company has a market cap of $915.91 million, a price-to-earnings ratio of 9.62 and a beta of 0.91.
Want More Great Investing Ideas?
Origin Bancorp (
NASDAQ:OBK
–
Get Free Report
) last released its quarterly earnings data on Wednesday, July 26th. The company reported $0.69 earnings per share for the quarter, beating analysts' consensus estimates of $0.64 by $0.05. Origin Bancorp had a return on equity of 9.50% and a net margin of 17.85%. The firm had revenue of $90.93 million during the quarter, compared to analyst estimates of $90.50 million. As a group, equities research analysts forecast that Origin Bancorp, Inc. will post 2.7 earnings per share for the current fiscal year.
Origin Bancorp Dividend Announcement
The company also recently disclosed a quarterly dividend, which was paid on Thursday, August 31st. Stockholders of record on Tuesday, August 15th were paid a dividend of $0.15 per share. This represents a $0.60 annualized dividend and a dividend yield of 2.02%. The ex-dividend date was Monday, August 14th. Origin Bancorp's dividend payout ratio (DPR) is 19.93%.
Analyst Ratings Changes
Separately, Raymond James cut shares of Origin Bancorp from an "outperform" rating to a "market perform" rating in a research report on Friday, July 28th.
View Our Latest Research Report on OBK
About Origin Bancorp
Origin Bancorp, Inc operates as a bank holding company for Origin Bank that provides banking and financial services to small and medium-sized businesses, municipalities, and retail clients in Texas, Louisiana, and Mississippi. It offers noninterest and interest-bearing checking accounts, savings deposits, money market accounts, and time deposits; and offers commercial real estate, construction and land development, consumer, residential real estate, commercial and industrial, mortgage warehouse, residential mortgage, and paycheck protection program loans.
Featured Stories
Receive News & Ratings for Origin Bancorp Daily - Enter your email address below to receive a concise daily summary of the latest news and analysts' ratings for Origin Bancorp and related companies with MarketBeat.com's FREE daily email newsletter.