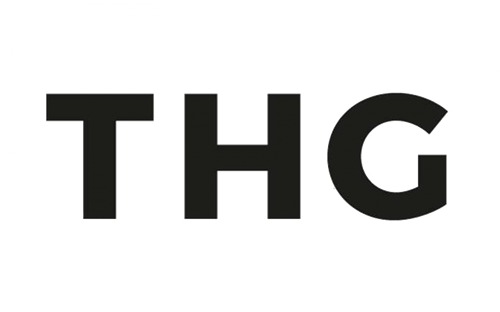 Shares of THG Plc (LON:THG – Get Free Report) dropped 4.9% during mid-day trading on Wednesday . The company traded as low as GBX 85.80 ($1.07) and last traded at GBX 87.54 ($1.10). Approximately 3,888,134 shares were traded during mid-day trading, a decline of 39% from the average daily volume of 6,356,929 shares. The stock had previously closed at GBX 92.02 ($1.15).
Analyst Upgrades and Downgrades
THG has been the subject of several research reports. Jefferies Financial Group lifted their price objective on shares of THG from GBX 85 ($1.06) to GBX 95 ($1.19) and gave the company a "buy" rating in a research note on Thursday, June 22nd. Barclays lifted their price objective on THG from GBX 87 ($1.09) to GBX 89 ($1.11) and gave the company an "equal weight" rating in a research note on Friday. One analyst has rated the stock with a sell rating, three have assigned a hold rating and three have issued a buy rating to the company's stock. Based on data from MarketBeat.com, the stock presently has an average rating of "Hold" and a consensus target price of GBX 118.25 ($1.48).
Get Our Latest Analysis on THG
THG Trading Down 0.3 %
Want More Great Investing Ideas?
The company has a debt-to-equity ratio of 77.86, a quick ratio of 0.89 and a current ratio of 1.52. The firm has a market capitalization of £892.19 million, a price-to-earnings ratio of -157.27, a P/E/G ratio of -0.08 and a beta of 2.47. The company has a 50 day moving average price of GBX 96.13 and a two-hundred day moving average price of GBX 79.77.
Insider Buying and Selling
In other THG news, insider Susan Jane Farr bought 26,500 shares of THG stock in a transaction dated Thursday, June 22nd. The stock was acquired at an average cost of GBX 76 ($0.95) per share, for a total transaction of £20,140 ($25,203.35). Insiders own 35.01% of the company's stock.
THG Company Profile
THG Plc operates as an e-commerce technology company in the United Kingdom, the United States, Europe, and internationally. The company operates pure-play sites, such as Lookfantastic, Cult Beauty, and Dermstore that offers approximately 1,300 premium brands across the skincare, haircare, cosmetics, and fragrance categories; Myprotein, a direct-to-consumer sports nutrition provider that offers products across various categories, including vegan alternatives, health snacks, vitamins and athleisure; and THG Ingenuity, an end-to-end platform that powers digital experience and retail for FMCG, beauty, and retail brands.
Featured Articles
Receive News & Ratings for THG Daily - Enter your email address below to receive a concise daily summary of the latest news and analysts' ratings for THG and related companies with MarketBeat.com's FREE daily email newsletter.