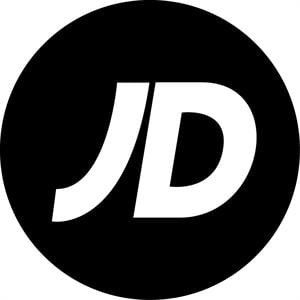 JD Sports Fashion Plc (LON:JD – Get Free Report) has received a consensus recommendation of "Moderate Buy" from the ten analysts that are presently covering the stock, Marketbeat.com reports. One investment analyst has rated the stock with a sell recommendation, one has assigned a hold recommendation and eight have issued a buy recommendation on the company. The average 1-year target price among analysts that have issued ratings on the stock in the last year is GBX 349.38 ($4.37).
JD has been the subject of several analyst reports. Shore Capital restated a "buy" rating on shares of JD Sports Fashion in a research note on Tuesday, June 27th. JPMorgan Chase & Co. reduced their price objective on JD Sports Fashion from GBX 215 ($2.69) to GBX 210 ($2.63) and set an "overweight" rating for the company in a research note on Tuesday, July 4th. Finally, Berenberg Bank reiterated a "buy" rating and issued a GBX 210 ($2.63) price target on shares of JD Sports Fashion in a research note on Tuesday, June 27th.
View Our Latest Stock Report on JD Sports Fashion
JD Sports Fashion Trading Down 0.7 %
Want More Great Investing Ideas?
LON:JD
opened at GBX 139.65 ($1.75) on Friday. The company has a debt-to-equity ratio of 93.13, a current ratio of 1.59 and a quick ratio of 0.71. The firm has a market capitalization of £7.23 billion, a price-to-earnings ratio of 4,655.00, a price-to-earnings-growth ratio of 1.30 and a beta of 1.62. JD Sports Fashion has a one year low of GBX 88.40 ($1.11) and a one year high of GBX 213.12 ($2.67). The business has a fifty day moving average price of GBX 147 and a 200-day moving average price of GBX 156.43.
Insiders Place Their Bets
In other news, insider Andy Long acquired 20,000 shares of the business's stock in a transaction dated Tuesday, July 11th. The stock was purchased at an average price of GBX 144 ($1.80) per share, for a total transaction of £28,800 ($36,040.55). 51.88% of the stock is currently owned by company insiders.
JD Sports Fashion Company Profile
JD Sports Fashion plc engages in the retail of branded sports fashion and outdoor clothing, footwear, accessories, and equipment for kids, women, and men. It operates through Sports Fashion and Outdoor segments. The company also retails leisure goods, sports goods, fishing gear, camping goods, boats, and bicycles, as well as distributes sports apparel and accessories, footwear, and apparel.
Further Reading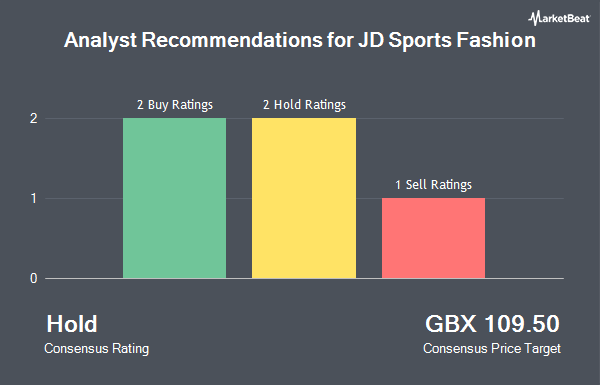 Receive News & Ratings for JD Sports Fashion Daily - Enter your email address below to receive a concise daily summary of the latest news and analysts' ratings for JD Sports Fashion and related companies with MarketBeat.com's FREE daily email newsletter.