Informa (LON:INF – Free Report) had its target price boosted by JPMorgan Chase & Co. from GBX 690 ($8.63) to GBX 740 ($9.26) in a research report sent to investors on Wednesday morning, Marketbeat Ratings reports. The brokerage currently has a neutral rating on the stock.
INF has been the topic of several other reports. Citigroup increased their target price on shares of Informa from GBX 720 ($9.01) to GBX 850 ($10.64) and gave the stock a buy rating in a research report on Tuesday, July 4th. Investec downgraded Informa to a hold rating and set a GBX 775 ($9.70) price target on the stock. in a research report on Tuesday, September 5th. Berenberg Bank initiated coverage on Informa in a research report on Monday, June 26th. They issued a buy rating and a GBX 820 ($10.26) price target on the stock. Shore Capital reaffirmed a buy rating on shares of Informa in a research report on Friday, June 23rd. Finally, Barclays reaffirmed an overweight rating and issued a GBX 805 ($10.07) price target on shares of Informa in a research report on Tuesday, June 13th. Three investment analysts have rated the stock with a hold rating and six have assigned a buy rating to the company's stock. Based on data from MarketBeat.com, the stock has an average rating of Moderate Buy and an average target price of GBX 761.25 ($9.53).
View Our Latest Stock Report on Informa
Informa Trading Up 0.2 %
Want More Great Investing Ideas?
Informa stock
opened at GBX 760 ($9.51) on Wednesday. The company has a debt-to-equity ratio of 30.80, a current ratio of 0.79 and a quick ratio of 1.70. The company has a market capitalization of £10.56 billion, a price-to-earnings ratio of 3,040.00, a PEG ratio of 0.75 and a beta of 1.14. Informa has a one year low of GBX 500.20 ($6.26) and a one year high of GBX 788.40 ($9.87). The company's fifty day moving average price is GBX 737.11 and its two-hundred day moving average price is GBX 711.57.
Informa Cuts Dividend
The company also recently announced a dividend, which was paid on Friday, September 15th. Investors of record on Thursday, August 10th were given a dividend of GBX 5.80 ($0.07) per share. This represents a yield of 0.78%. The ex-dividend date of this dividend was Thursday, August 10th. Informa's dividend payout ratio (DPR) is presently 5,200.00%.
Informa Company Profile
Informa plc operates as an international events, digital services, and academic knowledge company in the United Kingdom, Continental Europe, North America, China, and internationally. It operates through four segments: Informa Markets, Informa Tech, Informa Connect, and Taylor & Francis. The Informa Connect segment delivers specialist content, and live events and on-demand experiences for professionals through in-person, live, and digital platforms and services that enables businesses and professionals to meet, network, discuss, and learn.
Recommended Stories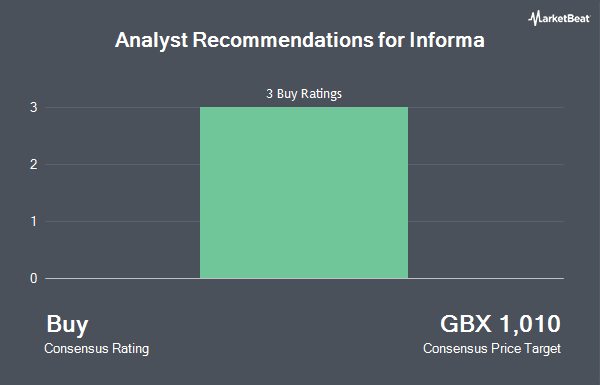 Receive News & Ratings for Informa Daily - Enter your email address below to receive a concise daily summary of the latest news and analysts' ratings for Informa and related companies with MarketBeat.com's FREE daily email newsletter.