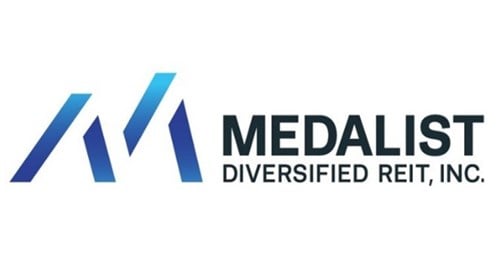 Medalist Diversified REIT, Inc. (NASDAQ:MDRR – Get Free Report) saw a large decline in short interest in August. As of August 31st, there was short interest totalling 7,100 shares, a decline of 17.4% from the August 15th total of 8,600 shares. Based on an average trading volume of 4,900 shares, the days-to-cover ratio is currently 1.4 days. Currently, 0.7% of the company's stock are short sold.
Medalist Diversified REIT Stock Up 2.7 %
Shares of Medalist Diversified REIT stock opened at $5.38 on Friday. The firm has a market cap of $11.94 million, a price-to-earnings ratio of -3.07 and a beta of 0.86. The company has a debt-to-equity ratio of 3.75, a current ratio of 2.93 and a quick ratio of 2.93. Medalist Diversified REIT has a 52-week low of $4.68 and a 52-week high of $9.22. The stock has a 50-day simple moving average of $5.44 and a 200-day simple moving average of $5.72.
Insider Buying and Selling at Medalist Diversified REIT
In other Medalist Diversified REIT news, CEO Frank Kavanaugh bought 2,717 shares of the stock in a transaction on Wednesday, September 6th. The shares were bought at an average price of $22.99 per share, with a total value of $62,463.83. Following the purchase, the chief executive officer now directly owns 42,500 shares in the company, valued at approximately $977,075. The acquisition was disclosed in a document filed with the SEC, which is accessible through the SEC website. Insiders have acquired a total of 46,408 shares of company stock valued at $751,423 in the last 90 days. 16.92% of the stock is currently owned by corporate insiders.
Institutional Investors Weigh In On Medalist Diversified REIT
Want More Great Investing Ideas?
Institutional investors have recently made changes to their positions in the company. Renaissance Technologies LLC lifted its holdings in shares of Medalist Diversified REIT by 71.1% during the 3rd quarter. Renaissance Technologies LLC now owns 130,000 shares of the company's stock valued at $106,000 after buying an additional 54,002 shares during the last quarter. Virtu Financial LLC acquired a new stake in Medalist Diversified REIT in the 1st quarter worth approximately $75,000. Finally, Vanguard Group Inc. lifted its holdings in Medalist Diversified REIT by 166.3% in the 3rd quarter. Vanguard Group Inc. now owns 48,881 shares of the company's stock worth $40,000 after purchasing an additional 30,525 shares during the last quarter. 50.19% of the stock is currently owned by institutional investors and hedge funds.
About Medalist Diversified REIT
Medalist Diversified REIT Inc is a Virginia-based real estate investment trust that specializes in acquiring, owning and managing commercial real estate in the Southeast region of the U.S. The Company's strategy is to focus on commercial real estate which is expected to provide an attractive balance of risk and returns.
Featured Articles
Receive News & Ratings for Medalist Diversified REIT Daily - Enter your email address below to receive a concise daily summary of the latest news and analysts' ratings for Medalist Diversified REIT and related companies with MarketBeat.com's FREE daily email newsletter.