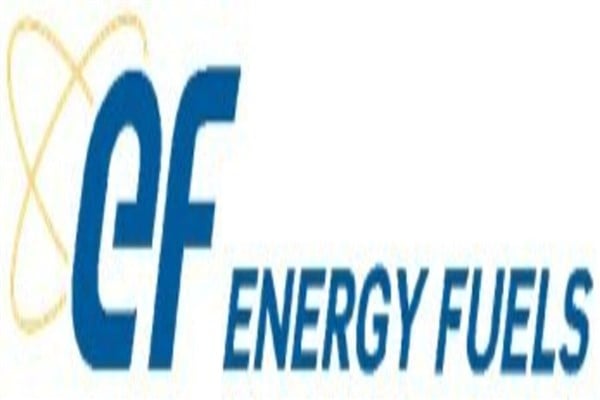 Energy Fuels Inc. (TSE:EFR – Get Free Report) (NASDAQ:UUUU)'s share price hit a new 52-week high on Monday . The stock traded as high as C$11.55 and last traded at C$11.26, with a volume of 78714 shares trading hands. The stock had previously closed at C$11.36.
Energy Fuels Stock Performance
The company has a debt-to-equity ratio of 0.38, a current ratio of 25.13 and a quick ratio of 19.23. The company has a fifty day moving average of C$8.93 and a two-hundred day moving average of C$8.22. The stock has a market capitalization of C$1.81 billion, a P/E ratio of 16.23 and a beta of 1.60.
Energy Fuels (TSE:EFR – Get Free Report) (NASDAQ:UUUU) last issued its earnings results on Friday, August 4th. The company reported C($0.04) EPS for the quarter, beating analysts' consensus estimates of C($0.07) by C$0.03. Energy Fuels had a return on equity of 26.28% and a net margin of 278.29%. The company had revenue of C$9.22 million during the quarter, compared to the consensus estimate of C$1.34 million. On average, equities analysts anticipate that Energy Fuels Inc. will post 0.19 EPS for the current year.
Energy Fuels Company Profile
Want More Great Investing Ideas?
(
Get Free Report
)
Energy Fuels Inc, together with its subsidiaries, engages in the extraction, recovery, exploration, processing, permitting, evaluation, and sale of uranium, vanadium, and rare earth elements. It also targets heavy mineral sands, including ilmenite, rutile, zircon, and monazite. The company owns and operates the Nichols Ranch project located in Wyoming, White Mesa Mill located in Utah, the Pinyon Plain project located in Arizona, the Roca Honda project located in Central New Mexico, the Sheep Mountain project located in Wyoming, the Bullfrog project located in Utah, and the La Sal project located in La Sal West and La Sal East.
Featured Stories
Receive News & Ratings for Energy Fuels Daily - Enter your email address below to receive a concise daily summary of the latest news and analysts' ratings for Energy Fuels and related companies with MarketBeat.com's FREE daily email newsletter.