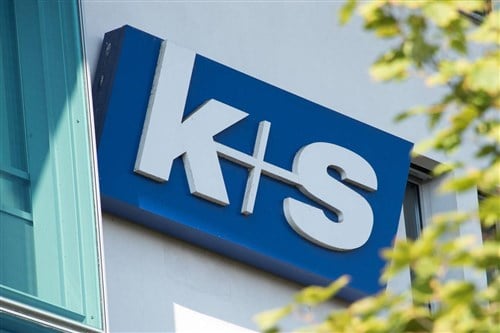 K+S Aktiengesellschaft (OTCMKTS:KPLUY – Get Free Report) was the target of a large growth in short interest during the month of August. As of August 31st, there was short interest totalling 20,700 shares, a growth of 15.0% from the August 15th total of 18,000 shares. Based on an average trading volume of 6,500 shares, the short-interest ratio is presently 3.2 days.
K+S Aktiengesellschaft Trading Up 1.1 %
OTCMKTS KPLUY traded up $0.10 during trading hours on Tuesday, reaching $9.38. 1,606 shares of the stock traded hands, compared to its average volume of 9,785. K+S Aktiengesellschaft has a 1 year low of $7.95 and a 1 year high of $12.48. The stock has a 50 day simple moving average of $9.50 and a two-hundred day simple moving average of $9.58.
Analyst Ratings Changes
A number of research analysts have recently issued reports on the company. Scotiabank raised K+S Aktiengesellschaft from an "underperform" rating to a "sector perform" rating in a research note on Thursday, June 15th. Societe Generale raised K+S Aktiengesellschaft from a "hold" rating to a "buy" rating in a report on Thursday, July 20th. Finally, Berenberg Bank raised K+S Aktiengesellschaft from a "hold" rating to a "buy" rating in a report on Monday, August 7th. Three research analysts have rated the stock with a hold rating and four have issued a buy rating to the company's stock. According to MarketBeat.com, the company currently has a consensus rating of "Moderate Buy" and a consensus target price of $25.50.
Want More Great Investing Ideas?
View Our Latest Analysis on K+S Aktiengesellschaft
K+S Aktiengesellschaft Company Profile
K+S Aktiengesellschaft, together with its subsidiaries, operates as a supplier of mineral products for the agricultural, industrial, consumer, and community segments worldwide. It offers potassium chloride for crops, such as grain, corn, rice, and soybean; fertilizer specialties that are used for crops with magnesium and sulfur requirements, including rapeseed or potatoes, as well as for chloride-sensitive crops consisting of citrus, grapes, or vegetables; and water-soluble fertilizers for use in fertigation under the KALISOP, KORN-KALI, ROLL-KALI, PATENTKALI, ESTA KIESERIT, MAGNESIA-KAINIT, SOLUMOP, SOLUSOP, SOLUCMS, SOLUMAP, SOLUMKP, EPSO TOP, EPSO MICROTOP, EPSO COMBITOP, EPSO PROFITOP, and EPSO BORTOP brand names.
Further Reading
Receive News & Ratings for K+S Aktiengesellschaft Daily - Enter your email address below to receive a concise daily summary of the latest news and analysts' ratings for K+S Aktiengesellschaft and related companies with MarketBeat.com's FREE daily email newsletter.