Shares of Phoenix Group Holdings plc (LON:PHNX – Get Free Report) have received an average recommendation of "Hold" from the five analysts that are covering the stock, MarketBeat Ratings reports. One equities research analyst has rated the stock with a sell rating, two have given a hold rating and two have given a buy rating to the company. The average 1-year price objective among analysts that have updated their coverage on the stock in the last year is GBX 694.60 ($8.60).
A number of research firms recently weighed in on PHNX. Bank of America raised their price target on shares of Phoenix Group from GBX 620 ($7.68) to GBX 640 ($7.93) and gave the company a "buy" rating in a research report on Monday. Berenberg Bank reiterated a "buy" rating and issued a GBX 770 ($9.54) target price on shares of Phoenix Group in a research note on Thursday, September 14th. Finally, Barclays lifted their target price on shares of Phoenix Group from GBX 715 ($8.86) to GBX 718 ($8.89) and gave the stock an "overweight" rating in a research note on Thursday, September 7th.
View Our Latest Research Report on Phoenix Group
Phoenix Group Stock Up 1.7 %
Want More Great Investing Ideas?
LON:PHNX
traded up GBX 9.20 ($0.11) during trading hours on Tuesday, reaching GBX 535.60 ($6.63). The company had a trading volume of 2,790,978 shares, compared to its average volume of 2,161,980. Phoenix Group has a twelve month low of GBX 501 ($6.21) and a twelve month high of GBX 647 ($8.01). The firm has a market cap of £5.36 billion, a price-to-earnings ratio of -291.09, a P/E/G ratio of 1.95 and a beta of 0.78. The business's 50-day simple moving average is GBX 530.79 and its two-hundred day simple moving average is GBX 552.66. The company has a quick ratio of 0.12, a current ratio of 0.25 and a debt-to-equity ratio of 161.58.
Phoenix Group Dividend Announcement
The business also recently disclosed a dividend, which will be paid on Monday, October 23rd. Shareholders of record on Thursday, September 28th will be issued a GBX 26 ($0.32) dividend. The ex-dividend date is Thursday, September 28th. This represents a yield of 4.83%. Phoenix Group's dividend payout ratio (DPR) is presently -2,826.09%.
Phoenix Group Company Profile
Phoenix Group Holdings plc operates in the long-term savings and retirement business in Europe. The company operates through four segments: UK Heritage, UK Open, Europe, and Management Services. It provides a range of pensions and savings products to support people across various stages of the savings life cycle.
See Also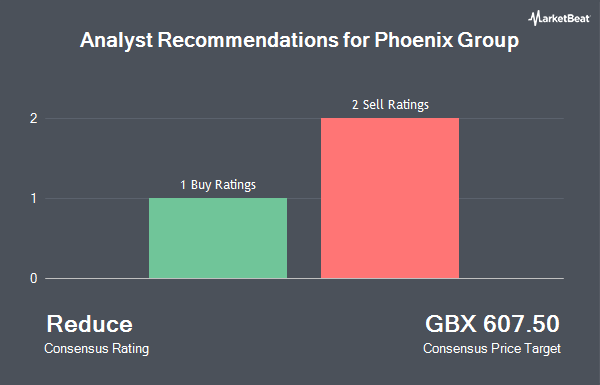 Receive News & Ratings for Phoenix Group Daily - Enter your email address below to receive a concise daily summary of the latest news and analysts' ratings for Phoenix Group and related companies with MarketBeat.com's FREE daily email newsletter.