DCC plc (LON:DCC – Get Free Report) declared a dividend on Tuesday, November 14th, Upcoming.Co.Uk reports. Shareholders of record on Thursday, November 23rd will be paid a dividend of GBX 63.04 ($0.77) per share on Friday, December 15th. This represents a dividend yield of 1.35%. The ex-dividend date is Thursday, November 23rd. The official announcement can be viewed at this link.
DCC Price Performance
Shares of DCC stock opened at GBX 5,230 ($64.23) on Wednesday. The business has a 50 day simple moving average of GBX 4,557.84 and a two-hundred day simple moving average of GBX 4,542.65. DCC has a 12 month low of GBX 3,986 ($48.95) and a 12 month high of GBX 5,292 ($64.99). The stock has a market capitalization of £5.17 billion, a P/E ratio of 1,552.66, a PEG ratio of 4.37 and a beta of 0.66. The company has a debt-to-equity ratio of 87.76, a current ratio of 1.28 and a quick ratio of 0.89.
Analyst Upgrades and Downgrades
A number of equities analysts have commented on DCC shares. Berenberg Bank reduced their target price on DCC from GBX 7,250 ($89.03) to GBX 6,520 ($80.07) and set a "buy" rating for the company in a report on Tuesday, September 5th. Peel Hunt restated a "buy" rating and issued a GBX 5,242 ($64.37) price target on shares of DCC in a research report on Friday, September 8th.
Want More Great Investing Ideas?
View Our Latest Analysis on DCC
DCC Company Profile
DCC plc provides sales, marketing, and support services worldwide. The company operates through DCC Energy, DCC Healthcare, and DCC Technology segments. It sells and markets liquefied petroleum gas (LPG), refrigerants, and natural gas; markets, sells, and retails transport and commercial fuels, heating oils, and related products and services; operates retail petrol stations; resells fuel cards; distributes oil; and provides logistics services.
Read More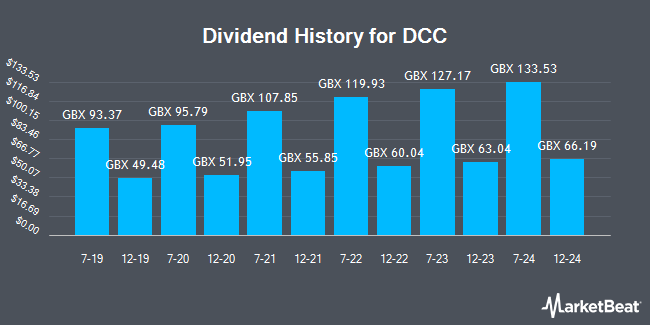 Receive News & Ratings for DCC Daily - Enter your email address below to receive a concise daily summary of the latest news and analysts' ratings for DCC and related companies with MarketBeat.com's FREE daily email newsletter.