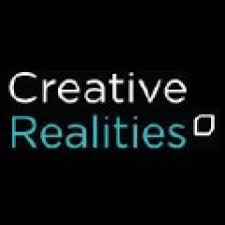 Creative Realities, Inc. (NASDAQ:CREX – Free Report) – Equities research analysts at Taglich Brothers decreased their Q3 2024 earnings estimates for shares of Creative Realities in a research note issued on Monday, November 13th. Taglich Brothers analyst H. Halpern now forecasts that the company will post earnings of $0.09 per share for the quarter, down from their previous estimate of $0.16. The consensus estimate for Creative Realities' current full-year earnings is ($0.40) per share. Taglich Brothers also issued estimates for Creative Realities' Q4 2024 earnings at $0.08 EPS and FY2024 earnings at $0.25 EPS.
Separately, Alliance Global Partners dropped their target price on Creative Realities from $7.50 to $6.00 in a report on Monday, August 21st.
Want More Great Investing Ideas?
View Our Latest Research Report on CREX
Creative Realities Trading Up 1.5 %
Shares of NASDAQ:CREX opened at $1.98 on Wednesday. Creative Realities has a twelve month low of $1.22 and a twelve month high of $4.00. The company has a current ratio of 0.89, a quick ratio of 0.77 and a debt-to-equity ratio of 0.39. The company's 50 day moving average is $1.70 and its 200 day moving average is $2.40.
Insider Activity
In other news, CEO Richard C. Mills acquired 50,000 shares of the firm's stock in a transaction on Monday, August 21st. The stock was acquired at an average price of $2.00 per share, for a total transaction of $100,000.00. Following the completion of the transaction, the chief executive officer now owns 297,712 shares in the company, valued at approximately $595,424. The acquisition was disclosed in a legal filing with the SEC, which can be accessed through this link. Insiders own 16.85% of the company's stock.
Institutional Trading of Creative Realities
A number of institutional investors and hedge funds have recently made changes to their positions in CREX. Perritt Capital Management Inc. purchased a new position in shares of Creative Realities during the 3rd quarter valued at approximately $39,000. Sargent Investment Group LLC raised its position in Creative Realities by 10.5% during the third quarter. Sargent Investment Group LLC now owns 316,200 shares of the company's stock worth $490,000 after acquiring an additional 30,000 shares during the period. Perkins Capital Management Inc. purchased a new position in Creative Realities during the third quarter valued at $155,000. Citadel Advisors LLC acquired a new stake in shares of Creative Realities in the second quarter valued at about $122,000. Finally, Cerity Partners LLC purchased a new stake in shares of Creative Realities during the second quarter worth about $811,000. 9.00% of the stock is currently owned by hedge funds and other institutional investors.
Creative Realities Company Profile
Creative Realities, Inc, together with its subsidiaries, provides digital marketing technology and solutions in the United States and internationally. It offers digital merchandising systems and omni-channel customer engagement systems; interactive digital shopping assistants; advisors and kiosks; and other interactive marketing technologies, such as mobile, social media, point-of-sale transactions, beaconing, and Web-based media that enables its customers to engage with their consumers.
Recommended Stories
Receive News & Ratings for Creative Realities Daily - Enter your email address below to receive a concise daily summary of the latest news and analysts' ratings for Creative Realities and related companies with MarketBeat.com's FREE daily email newsletter.