ConvaTec Group (LON:CTEC – Get Free Report)'s stock had its "buy" rating reaffirmed by equities researchers at Berenberg Bank in a research report issued on Wednesday, Digital Look reports. They presently have a GBX 290 ($3.56) target price on the stock. Berenberg Bank's price objective would indicate a potential upside of 31.10% from the company's current price.
Several other equities research analysts have also recently issued reports on the company. Barclays reaffirmed an "overweight" rating and issued a GBX 310 ($3.81) target price on shares of ConvaTec Group in a report on Wednesday, September 6th. Royal Bank of Canada raised ConvaTec Group to an "outperform" rating and upped their price objective for the stock from GBX 215 ($2.64) to GBX 300 ($3.68) in a report on Thursday, September 7th. Jefferies Financial Group reissued a "buy" rating and issued a GBX 300 ($3.68) target price on shares of ConvaTec Group in a report on Wednesday. Finally, The Goldman Sachs Group started coverage on shares of ConvaTec Group in a research note on Tuesday, September 5th. They set a "buy" rating and a GBX 300 ($3.68) price target on the stock. Six analysts have rated the stock with a buy rating, Based on data from MarketBeat, the company has a consensus rating of "Buy" and an average target price of GBX 298.33 ($3.66).
Check Out Our Latest Stock Analysis on ConvaTec Group
ConvaTec Group Stock Performance
Want More Great Investing Ideas?
CTEC
opened at GBX 221.20 ($2.72) on Wednesday. The company has a debt-to-equity ratio of 90.12, a quick ratio of 0.96 and a current ratio of 1.70. The stock has a market capitalization of £4.53 billion, a price-to-earnings ratio of 7,383.73, a PEG ratio of 1.85 and a beta of 0.51. The company has a fifty day moving average of GBX 212.69 and a 200 day moving average of GBX 213.50. ConvaTec Group has a fifty-two week low of GBX 195.10 ($2.40) and a fifty-two week high of GBX 257.87 ($3.17).
ConvaTec Group Company Profile
ConvaTec Group PLC engages in the development, manufacture, and marketing of medical products and technologies worldwide. The company offers advanced wound dressings and skin care products for the management of acute and chronic wounds resulting from various conditions, such as diabetes, and acute conditions resulting from traumatic injury and burns.
See Also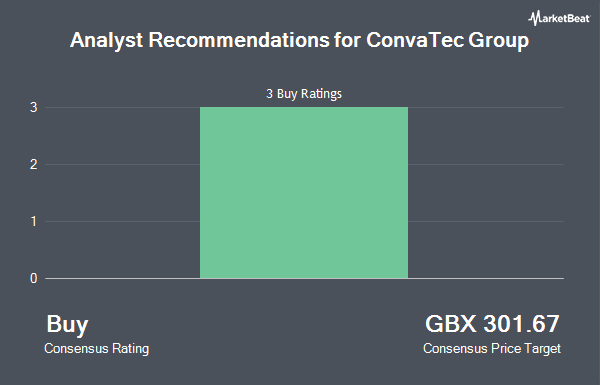 Receive News & Ratings for ConvaTec Group Daily - Enter your email address below to receive a concise daily summary of the latest news and analysts' ratings for ConvaTec Group and related companies with MarketBeat.com's FREE daily email newsletter.