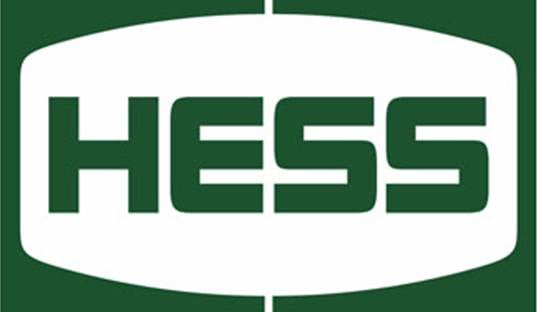 BNP Paribas Arbitrage SNC decreased its position in Hess Co. (NYSE:HES – Free Report) by 40.6% in the 2nd quarter, according to the company in its most recent Form 13F filing with the Securities & Exchange Commission. The firm owned 216,030 shares of the oil and gas producer's stock after selling 147,453 shares during the quarter. BNP Paribas Arbitrage SNC owned about 0.07% of Hess worth $29,369,000 at the end of the most recent reporting period.
Other institutional investors have also modified their holdings of the company. KB Financial Partners LLC bought a new stake in shares of Hess during the 1st quarter worth $26,000. TFC Financial Management Inc. acquired a new position in Hess in the 1st quarter valued at approximately $36,000. Clear Street Markets LLC acquired a new position in Hess in the 4th quarter valued at approximately $40,000. Avondale Wealth Management acquired a new position in Hess in the 2nd quarter valued at approximately $41,000. Finally, Harbour Investments Inc. increased its stake in Hess by 24.0% in the 1st quarter. Harbour Investments Inc. now owns 403 shares of the oil and gas producer's stock valued at $53,000 after buying an additional 78 shares during the period. Institutional investors and hedge funds own 81.72% of the company's stock.
Hess Trading Up 0.3 %
Shares of NYSE HES opened at $144.17 on Thursday. The company's 50 day simple moving average is $152.76 and its 200 day simple moving average is $145.16. Hess Co. has a fifty-two week low of $113.82 and a fifty-two week high of $167.75. The firm has a market capitalization of $44.28 billion, a P/E ratio of 27.78 and a beta of 1.53. The company has a debt-to-equity ratio of 0.90, a current ratio of 1.31 and a quick ratio of 1.20.
Want More Great Investing Ideas?
Hess (
NYSE:HES
–
Get Free Report
) last announced its quarterly earnings data on Wednesday, October 25th. The oil and gas producer reported $1.64 earnings per share for the quarter, beating the consensus estimate of $1.24 by $0.40. The business had revenue of $2.30 billion for the quarter, compared to analyst estimates of $2.68 billion. Hess had a net margin of 14.94% and a return on equity of 18.06%. Hess's revenue was down 27.3% compared to the same quarter last year. During the same period in the prior year, the business posted $1.89 earnings per share. On average, analysts predict that Hess Co. will post 4.91 EPS for the current year.
Hess Dividend Announcement
The firm also recently disclosed a quarterly dividend, which was paid on Friday, September 29th. Investors of record on Monday, September 18th were paid a dividend of $0.4375 per share. This represents a $1.75 annualized dividend and a yield of 1.21%. The ex-dividend date was Friday, September 15th. Hess's payout ratio is presently 33.72%.
Analysts Set New Price Targets
A number of equities research analysts have weighed in on the stock. UBS Group lifted their price target on shares of Hess from $206.00 to $210.00 and gave the stock a "buy" rating in a research note on Wednesday, October 4th. Sanford C. Bernstein downgraded shares of Hess from an "outperform" rating to a "market perform" rating and decreased their price target for the stock from $189.00 to $166.00 in a research note on Thursday, November 2nd. Susquehanna reiterated a "neutral" rating and issued a $160.00 price target (down from $197.00) on shares of Hess in a research report on Thursday, October 26th. Argus upgraded Hess from a "hold" rating to a "buy" rating and set a $171.00 price target on the stock in a research report on Tuesday, November 7th. Finally, Piper Sandler upped their price target on Hess from $167.00 to $169.00 and gave the company an "overweight" rating in a research report on Monday, October 9th. One analyst has rated the stock with a sell rating, eight have given a hold rating and eight have issued a buy rating to the company. According to MarketBeat.com, Hess currently has an average rating of "Hold" and an average price target of $173.06.
Check Out Our Latest Analysis on Hess
Insiders Place Their Bets
In other Hess news, SVP Barbara J. Lowery-Yilmaz sold 24,319 shares of Hess stock in a transaction dated Friday, September 1st. The stock was sold at an average price of $156.91, for a total transaction of $3,815,894.29. Following the transaction, the senior vice president now directly owns 113,670 shares in the company, valued at $17,835,959.70. The transaction was disclosed in a filing with the SEC, which is accessible through this hyperlink. Corporate insiders own 9.91% of the company's stock.
Hess Company Profile
Hess Corporation, an exploration and production company, explores, develops, produces, purchases, transports, and sells crude oil, natural gas liquids (NGLs), and natural gas. The company operates in two segments, Exploration and Production, and Midstream. It conducts production operations primarily in the United States, Guyana, the Malaysia/Thailand Joint Development Area, and Malaysia; and exploration activities principally offshore Guyana, the U.S.
Featured Stories
Want to see what other hedge funds are holding HES? Visit HoldingsChannel.com to get the latest 13F filings and insider trades for Hess Co. (NYSE:HES – Free Report).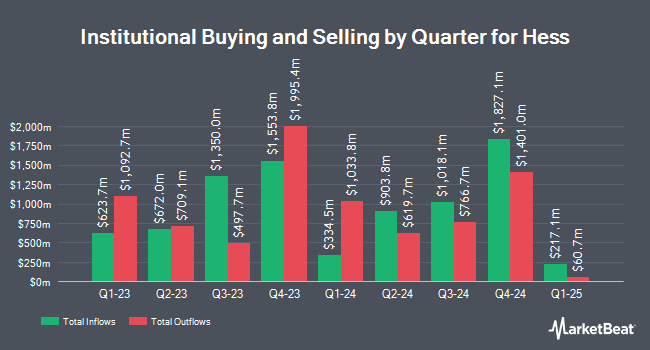 Receive News & Ratings for Hess Daily - Enter your email address below to receive a concise daily summary of the latest news and analysts' ratings for Hess and related companies with MarketBeat.com's FREE daily email newsletter.