MarketWise, Inc. (NASDAQ:MKTW – Get Free Report) Director Van D. Simmons acquired 5,000 shares of the stock in a transaction dated Monday, November 13th. The stock was acquired at an average cost of $2.70 per share, with a total value of $13,500.00. Following the completion of the transaction, the director now owns 133,040 shares in the company, valued at approximately $359,208. The acquisition was disclosed in a legal filing with the SEC, which is accessible through this link.
MarketWise Stock Performance
Shares of MKTW traded up $0.01 during trading hours on Thursday, hitting $2.80. The stock had a trading volume of 4,725 shares, compared to its average volume of 121,066. The firm has a 50 day simple moving average of $1.83 and a 200-day simple moving average of $1.88. MarketWise, Inc. has a 1-year low of $1.24 and a 1-year high of $3.10.
MarketWise Announces Dividend
The company also recently announced a quarterly dividend, which will be paid on Thursday, January 25th. Stockholders of record on Monday, December 25th will be paid a $0.01 dividend. The ex-dividend date of this dividend is Thursday, December 21st. This represents a $0.04 annualized dividend and a dividend yield of 1.43%.
Institutional Trading of MarketWise
Want More Great Investing Ideas?
Several large investors have recently made changes to their positions in MKTW. American International Group Inc. acquired a new position in MarketWise during the 2nd quarter valued at about $29,000. JPMorgan Chase & Co. raised its holdings in shares of MarketWise by 1,238.5% in the 2nd quarter. JPMorgan Chase & Co. now owns 9,102 shares of the newsletter publisher's stock worth $33,000 after purchasing an additional 8,422 shares during the period. Alliancebernstein L.P. bought a new stake in shares of MarketWise in the 3rd quarter worth approximately $26,000. Virtu Financial LLC bought a new stake in MarketWise during the 1st quarter valued at $54,000. Finally, Jane Street Group LLC bought a new stake in MarketWise during the 3rd quarter valued at $33,000. 29.26% of the stock is currently owned by institutional investors and hedge funds.
Wall Street Analyst Weigh In
Separately, Needham & Company LLC reissued a "buy" rating and issued a $3.00 price objective on shares of MarketWise in a research report on Monday.
Read Our Latest Analysis on MKTW
About MarketWise
MarketWise, Inc operates a content and technology multi-brand platform for self-directed investors in the United States and Internationally. Its platform includes subscription businesses that provides financial research, software, education, and tools to navigate the financial markets. The company offers various investment strategies, such as value investing, income, growth, commodities, cryptocurrencies, venture, crowdfunded investing, biotechnology, mutual funds, options, and trading; investment research product portfolio through a range of media, including desktops, laptops, tablets, and mobile; and financial newsletters.
Featured Articles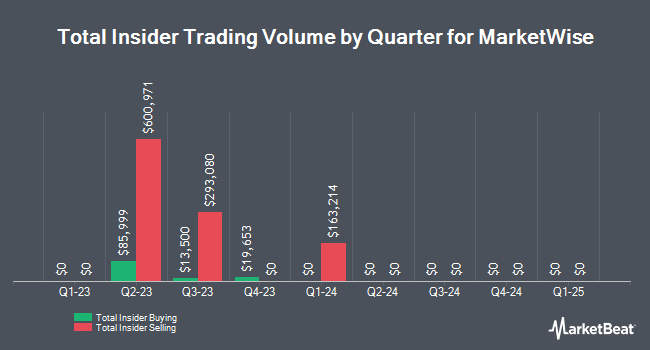 Receive News & Ratings for MarketWise Daily - Enter your email address below to receive a concise daily summary of the latest news and analysts' ratings for MarketWise and related companies with MarketBeat.com's FREE daily email newsletter.