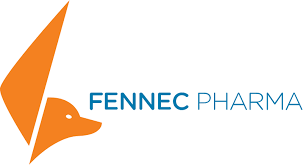 Fennec Pharmaceuticals Inc. (TSE:FRX – Get Free Report) Director Khalid Islam purchased 20,492 shares of Fennec Pharmaceuticals stock in a transaction that occurred on Thursday, November 16th. The shares were bought at an average cost of C$2.44 per share, for a total transaction of C$50,000.48.
Fennec Pharmaceuticals Stock Up 2.5 %
Shares of TSE:FRX opened at C$11.02 on Friday. The company has a market capitalization of C$294.34 million, a price-to-earnings ratio of -8.04 and a beta of 0.24. The company has a 50 day moving average of C$10.02 and a two-hundred day moving average of C$10.76. Fennec Pharmaceuticals Inc. has a 52-week low of C$9.27 and a 52-week high of C$14.41. The company has a quick ratio of 10.17, a current ratio of 4.84 and a debt-to-equity ratio of 881.09.
About Fennec Pharmaceuticals
Want More Great Investing Ideas?
Fennec Pharmaceuticals Inc operates as a biopharmaceutical company. The company's product candidates include PEDMARK, a formulation of sodium thiosulfate for the prevention of platinum-induced ototoxicity hearing loss in pediatric cancer patients. It sells its products through regional pediatric oncology specialists and medical science liaisons.
Featured Articles
Receive News & Ratings for Fennec Pharmaceuticals Daily - Enter your email address below to receive a concise daily summary of the latest news and analysts' ratings for Fennec Pharmaceuticals and related companies with MarketBeat.com's FREE daily email newsletter.