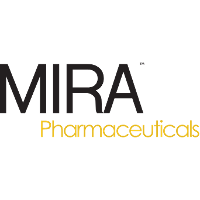 MIRA Pharmaceuticals, Inc. (NASDAQ:MIRA – Free Report) – Equities research analysts at Zacks Small Cap reduced their Q3 2023 EPS estimates for MIRA Pharmaceuticals in a research note issued to investors on Tuesday, November 14th. Zacks Small Cap analyst B. Sorensen now forecasts that the company will post earnings of ($0.26) per share for the quarter, down from their prior estimate of ($0.08). The consensus estimate for MIRA Pharmaceuticals' current full-year earnings is ($0.34) per share. Zacks Small Cap also issued estimates for MIRA Pharmaceuticals' Q4 2023 earnings at ($0.23) EPS, FY2023 earnings at ($0.68) EPS, Q1 2024 earnings at ($0.16) EPS, FY2024 earnings at ($0.52) EPS, Q1 2025 earnings at ($0.16) EPS and FY2025 earnings at ($0.43) EPS.
MIRA Pharmaceuticals (NASDAQ:MIRA – Get Free Report) last posted its quarterly earnings results on Friday, September 15th. The company reported ($0.10) earnings per share for the quarter.
MIRA Pharmaceuticals Trading Up 14.6 %
Want More Great Investing Ideas?
Shares of
MIRA stock
opened at $3.38 on Friday. The stock's 50-day moving average price is $3.35. MIRA Pharmaceuticals has a 12 month low of $1.33 and a 12 month high of $7.98.
About MIRA Pharmaceuticals
MIRA Pharmaceuticals, Inc operates as a clinical development stage biopharmaceutical company. The company focuses on the development and commercialization of a new molecular synthetic tetrahydrocannabinol (THC) analog under investigation for the treatment of adult patients with anxiety and cognitive decline typically associated with early-stage dementia.
Read More
Receive News & Ratings for MIRA Pharmaceuticals Daily - Enter your email address below to receive a concise daily summary of the latest news and analysts' ratings for MIRA Pharmaceuticals and related companies with MarketBeat.com's FREE daily email newsletter.