Shares of Coloplast A/S (OTCMKTS:CLPBY – Get Free Report) have earned a consensus rating of "Hold" from the seven analysts that are covering the stock, Marketbeat.com reports. One analyst has rated the stock with a sell recommendation, five have assigned a hold recommendation and one has issued a buy recommendation on the company.
A number of equities research analysts have commented on CLPBY shares. The Goldman Sachs Group began coverage on Coloplast A/S in a research note on Tuesday, September 5th. They issued a "neutral" rating for the company. Royal Bank of Canada started coverage on shares of Coloplast A/S in a research report on Thursday, September 7th. They issued a "sector perform" rating for the company.
Read Our Latest Report on CLPBY
Coloplast A/S Price Performance
Want More Great Investing Ideas?
CLPBY stock
opened at $10.94 on Friday. The company has a debt-to-equity ratio of 0.02, a current ratio of 1.29 and a quick ratio of 0.90. The company's 50-day moving average is $10.59 and its 200-day moving average is $11.78. The stock has a market capitalization of $23.62 billion, a PE ratio of 39.05 and a beta of 0.28. Coloplast A/S has a 1 year low of $9.90 and a 1 year high of $14.77.
Coloplast A/S Increases Dividend
The business also recently announced a dividend, which will be paid on Friday, December 22nd. Stockholders of record on Monday, December 11th will be issued a $0.1498 dividend. The ex-dividend date of this dividend is Friday, December 8th. This is a positive change from Coloplast A/S's previous dividend of $0.05. Coloplast A/S's dividend payout ratio (DPR) is currently 27.50%.
Coloplast A/S Company Profile
Coloplast A/S engages in the development and sale of intimate healthcare products and services in Denmark, the United States, the United Kingdom, France, and internationally. The company operates through Chronic Care, Continence Care, Voice and Respiratory Care, Interventional Urology, and Advanced Wound Care segments.
See Also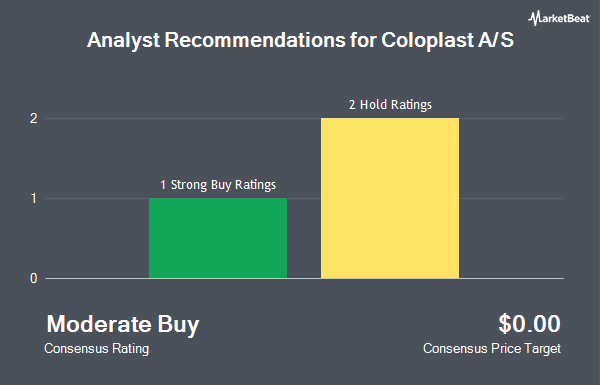 Receive News & Ratings for Coloplast A/S Daily - Enter your email address below to receive a concise daily summary of the latest news and analysts' ratings for Coloplast A/S and related companies with MarketBeat.com's FREE daily email newsletter.