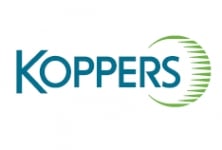 Koppers Holdings Inc. (NYSE:KOP – Get Free Report) VP Joseph P. Dowd sold 5,250 shares of Koppers stock in a transaction on Friday, November 17th. The shares were sold at an average price of $42.46, for a total value of $222,915.00. Following the completion of the transaction, the vice president now owns 37,742 shares of the company's stock, valued at $1,602,525.32. The sale was disclosed in a legal filing with the Securities & Exchange Commission, which is accessible through this link.
Koppers Trading Down 0.3 %
NYSE KOP traded down $0.14 during trading on Monday, hitting $43.19. 84,707 shares of the company's stock traded hands, compared to its average volume of 91,688. The firm has a market cap of $899.35 million, a P/E ratio of 10.29 and a beta of 1.84. The stock has a fifty day moving average of $38.67 and a two-hundred day moving average of $36.23. The company has a debt-to-equity ratio of 1.81, a current ratio of 2.24 and a quick ratio of 1.05. Koppers Holdings Inc. has a 12-month low of $27.94 and a 12-month high of $44.18.
Koppers (NYSE:KOP – Get Free Report) last released its quarterly earnings data on Friday, November 3rd. The specialty chemicals company reported $1.32 earnings per share for the quarter, beating analysts' consensus estimates of $1.27 by $0.05. The firm had revenue of $550.40 million during the quarter, compared to analyst estimates of $555.75 million. Koppers had a return on equity of 23.16% and a net margin of 4.24%. The business's quarterly revenue was up 2.7% compared to the same quarter last year. During the same quarter in the prior year, the firm posted $1.19 earnings per share. As a group, sell-side analysts expect that Koppers Holdings Inc. will post 4.49 EPS for the current year.
Koppers Announces Dividend
Want More Great Investing Ideas?
The company also recently announced a quarterly dividend, which will be paid on Monday, December 11th. Stockholders of record on Friday, November 24th will be issued a dividend of $0.06 per share. The ex-dividend date of this dividend is Wednesday, November 22nd. This represents a $0.24 dividend on an annualized basis and a dividend yield of 0.56%. Koppers's dividend payout ratio is currently 5.70%.
Institutional Inflows and Outflows
A number of hedge funds have recently bought and sold shares of the business. Captrust Financial Advisors grew its position in shares of Koppers by 122.1% in the 1st quarter. Captrust Financial Advisors now owns 1,006 shares of the specialty chemicals company's stock worth $28,000 after buying an additional 553 shares during the last quarter. Qube Research & Technologies Ltd purchased a new stake in Koppers in the third quarter worth $44,000. Tower Research Capital LLC TRC lifted its stake in Koppers by 50.4% in the third quarter. Tower Research Capital LLC TRC now owns 1,176 shares of the specialty chemicals company's stock worth $25,000 after acquiring an additional 394 shares during the period. Quadrant Capital Group LLC boosted its holdings in Koppers by 22.1% in the second quarter. Quadrant Capital Group LLC now owns 1,648 shares of the specialty chemicals company's stock valued at $56,000 after acquiring an additional 298 shares in the last quarter. Finally, Quantbot Technologies LP purchased a new position in Koppers during the 3rd quarter valued at $88,000. Hedge funds and other institutional investors own 88.81% of the company's stock.
Analyst Upgrades and Downgrades
A number of analysts recently weighed in on the stock. StockNews.com assumed coverage on shares of Koppers in a report on Thursday, October 5th. They set a "hold" rating on the stock. Barrington Research restated an "outperform" rating and set a $45.00 target price on shares of Koppers in a research report on Monday, September 18th. Finally, B. Riley reaffirmed a "buy" rating and issued a $50.00 price target on shares of Koppers in a report on Friday, September 15th.
Read Our Latest Stock Report on Koppers
About Koppers
Koppers Holdings Inc provides treated wood products, wood preservation chemicals, and carbon compounds in the United States, Australasia, Europe, and internationally. The company operates through three segments: Railroad and Utility Products and Services (RUPS), Performance Chemicals (PC), and Carbon Materials and Chemicals (CMC).The RUPS segment procures and treats crossties, switch ties, and various types of lumber used for railroad bridges and crossings.
Read More
Receive News & Ratings for Koppers Daily - Enter your email address below to receive a concise daily summary of the latest news and analysts' ratings for Koppers and related companies with MarketBeat.com's FREE daily email newsletter.