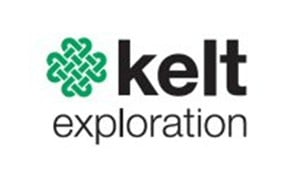 Kelt Exploration Ltd. (TSE:KEL – Get Free Report) Director Neil Graham Sinclair sold 35,000 shares of the company's stock in a transaction dated Friday, November 17th. The stock was sold at an average price of C$4.76, for a total transaction of C$166,600.00.
Kelt Exploration Trading Up 2.2 %
Shares of Kelt Exploration stock traded up C$0.16 on Monday, reaching C$7.38. The company had a trading volume of 349,343 shares, compared to its average volume of 425,964. The company has a debt-to-equity ratio of 0.16, a quick ratio of 0.61 and a current ratio of 0.80. The firm has a market cap of C$1.43 billion, a PE ratio of 12.58 and a beta of 2.10. The firm's 50 day moving average price is C$7.28 and its two-hundred day moving average price is C$6.45. Kelt Exploration Ltd. has a 52-week low of C$4.29 and a 52-week high of C$8.16.
Wall Street Analysts Forecast Growth
Several analysts recently commented on the company. National Bankshares dropped their price target on Kelt Exploration from C$9.25 to C$8.75 in a research report on Friday, November 10th. BMO Capital Markets boosted their target price on Kelt Exploration from C$8.50 to C$9.50 in a report on Monday, October 16th. ATB Capital reduced their price objective on Kelt Exploration from C$9.50 to C$9.25 in a research report on Friday, November 10th. Raymond James upgraded Kelt Exploration from a "market perform" rating to an "outperform" rating and upped their target price for the company from C$8.00 to C$9.00 in a report on Friday, September 8th. Finally, TD Securities lowered shares of Kelt Exploration from a "buy" rating to a "hold" rating and set a C$8.00 price objective for the company. in a report on Thursday, September 28th. One analyst has rated the stock with a hold rating and seven have issued a buy rating to the company. According to MarketBeat, the company presently has a consensus rating of "Moderate Buy" and a consensus price target of C$8.83.
Want More Great Investing Ideas?
View Our Latest Report on KEL
About Kelt Exploration
Kelt Exploration Ltd., an oil and gas company, engages in the exploration, development, and production of crude oil and natural gas resources primarily in west central Alberta and northeastern British Columbia, Canada. The company markets its crude oil, natural gas, and natural gas liquids primarily to third party marketing companies.
See Also
Receive News & Ratings for Kelt Exploration Daily - Enter your email address below to receive a concise daily summary of the latest news and analysts' ratings for Kelt Exploration and related companies with MarketBeat.com's FREE daily email newsletter.